Abuja – A Civil Society Organisations (CSO), Working Group on Peace and Good Governance, has urged the Federal Government to direct the anti-corruption fight at institutions and sources to properly tame the scourge.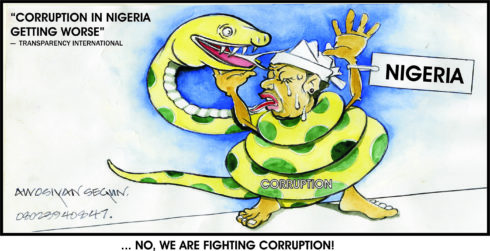 One of the conveners of the group, Prof. Jibrin Ibrahim, made the call in Abuja on Thursday at the CSO's "Leaders' Conference" organised in conjunction with Civil Society Legislative Advocacy Centre (CISLAC).
Others collaborators for the conference are Centre for Democracy and Development (CDD) and West African Network for Peace (WANEP).
Ibrahim said that the conference was called to review the drift towards chaos in Nigeria and the imperative of urgent action to redress the situation.
He said that the growth of public corruption had continued in spite of the promises made by the present administration to contain it.
"Corruption has become so embedded that it has become difficult for public institutions to execute their mandate as the self-interest of officials overtakes the public good.
" Meanwhile, the successful prosecution of corrupt officials has become difficult due to a combination of poor capacity of the anti-corruption agencies, slow judicial process and corruption within the judiciary.
"Corruption is not being tackled adequately because the Federal Government's understanding of corruption is skewed in the direction of "Politically-Exposed People (PEP).
"The government has not turned its attention to institutional corruption which paralyses institutions and undermines their delivery,'' he said.
Ibrahim said that in the police, for example, "the poorly-paid constable does not collect pay as and when due'', and also paid for uniforms, often including the rifle essential for their work.
According to him, ignoring this institutional corruption and concentrating on Politically-Exposed People, important as it is, has dragged the government into the politics of corruption.
He added that this had led to an atmosphere where propaganda and subterfuge had become the tools rather than the law.
The activist said that Nigeria's inability to address poverty and create jobs had not only meant that idle youths would be available for recruitment into drug, crime and political violence, but had also resulted in breakdown of societal morals.
He urged Nigerians to wake up to the fact that societies were decomposing and the fabric that held it together was snapping.
"Where is the hope going to come from if government appears to be oblivious of all this and is busy planning for 2019?
"In the midst of these uncertainties and drift, what can we expect from a government that seems not to want to engage?
"The political parties do not appear to be there; they don't seem to know what is happening to the society, so, who do we or can we engage?
"Yes, indeed, Nigeria is drifting towards chaos and the time to act to revive Nigeria is now.
" Here is therefore the need for all responsible Nigerians to join hands in the struggle to halt the drift and reposition Nigeria for electoral integrity and stable democratic development,'' he said. (NAN)