After the deadly robbery attacks in Offa Kwara State and the recent killings in Donga and Bali councils in Taraba State, the Inspector General of Police, Ibrahim Idris has despatched six mobile police units to the two states.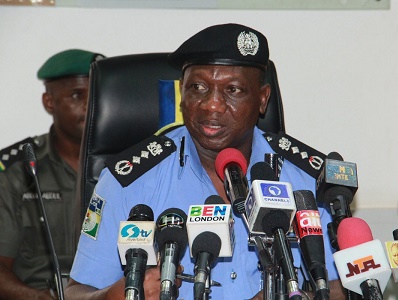 Each state will have three units each to be deployed to the troubled areas.
Idris has also sent police investigation teams, Armoured Personnel Carriers to Offa, where, according to police accounts 17 people were killed by the robbery gangs on Thursday.
According to Jimoh Moshood, the Police spokesman, another probe team is on its way to the two Taraba LGAs.
"The deployments which have arrived the two States will cover Offa LGA and its environ and other vulnerable points in Kwara State, while the deployment of the three Police Mobile Force (PMF) in addition to the Five PMF units recently deployed to Taraba State will cover Donga, Bali, Lau, Gassol, Karim Lamido LGAs and other flash points in the State", Moshood said.
According to him, the Police teams will carry out intelligence gathering, raids of identified criminal flash points, stop and search operations, visibility and confidence building patrols, arrest of perpetrators and further investigation into the incidents.
Police also said they have arrested eight principal suspects in connection with the Offa bank robbery and 12 suspects directly responsible for the recent killings in Donga and Bali Local Government Areas of Taraba State.
"Also recovered were seven AK47 Rifles, four Locally made revolver pistols and 30 Rounds of AK47 ammunition, Seven operational vehicles of the armed robbers and assailants in the two incidents.
In Donga and Bali LGAs attacks where eight persons were killed, the police said the 12 suspects arrested will soon be taken to court.
Nine policemen and eight civilians were killed in the Offa attacks.
The police said the eight suspects arrested have admitted to the various criminal roles they played in the robbery attacks and are assisting Police investigation
NAN