By Peter Okutu
BAKALIKI—THE All Progressives Congress, APC, governorship aspirant in Ebonyi State, Dr. Chris Adolawam yesterday stressed that the short-changing and marginalization of Ndigbo within the South East region was not the fault of President Muhammadu Buhari but that of some South East Governors who are only interested in what concerns them personally.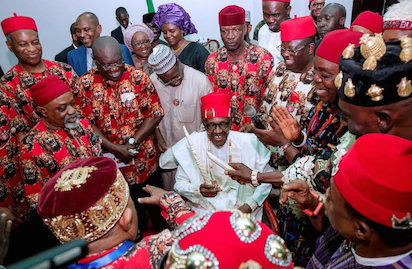 The APC governorship aspirant stated this while briefing newsmen immediately after a phone in programme hosted by Unity Fm in Abakaliki.
According to him, "the President had put modalities in place to ensure the economic development and sustainability of federal government policies in every sector of the economy within the region."
On his political ambition, the APC chieftain emphasized that "if he wins the 2019 governorship election, his administration would focus on the industrialization of the state and human capital development."
According to him, "the stakeholders also agreed to allow a free and fair congress that will lead to the ushering in of new executives to pilot the affairs of the party."
Awam who is a 2019 governorship aspirant in Ebonyi state, expressed hope that the party will be united and focused so as to be able to mount a credible opposition to the ruling PDP in the state.
"My administration will be people-oriented. The citizens will be economically empowered to face every financial challenge. We will make sure that industries are established in different parts of the state. We are richly blessed in Ebonyi and these natural deposits need to be harnessed for the benefits of the people."