Lolu, one of the evicted housemates at the just concluded 2018 BBNaija, tagged "Double Wahala" said he was not certain about getting down with his in-house love bird, Munirat Antoniette Lecky also known as Anto.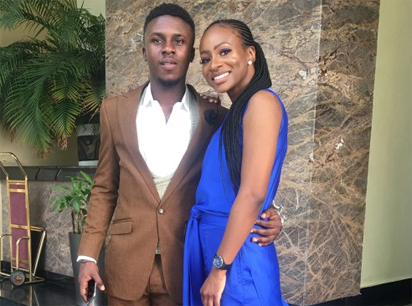 He said this on Sunday night, during the grand finale when Bisola, the anchor of the show at the Multi Choice viewing centre in Lagos asked him if the relationship was now official.
He said, "no it is not official yet, but when it is, we will let you know".
Lolu and Anto had had a relationship in the BBNiaja house and had spent quality time until she was evicted along side Chloe Oluwabusayo Abiri also known as Khloe or Koko.
Their eviction from the show was dramatic because they were also given a second chance to continue in the game when voters were given the opportunity to vote two evicted housemates to come back into the game.
While Khloe and her paired partner, Kelvin Broullette (K. Brule), jointly known as Ksquared, were disqualified for getting three strikes for breaching house rules, Anto was evicted due to low numbers of votes for eviction.
Anto and Khloe returned to the house without the knowledge of the other housemates to continue in the game.
The 2018 BBNaija show commenced on Jan. 28, with 20 housemates to compete for the grand price of N45 million and a brand new SUV.
The contestantsource are: Patrick Fakoya, known as Rico Swavey, Iwuchukwu Marianne,aka Ahneeka, Sandra Asogwa, aka Alex, Angel Awatoriagaha, aka Angel, Oluwabamike Olawumi, also known as BamBam and Cynthia Nwadiora, aka Cee-C.
Others are Bitto Arumun aka Bitto, Vanessa Olu known as Vandora, Nina Onyenobi aka Nina, K.Brule, Khloe, Miracle Igbokwe aka Miracle and Adedayo Aderombi aka Dee-One.
The others were Linda Onyejekwe aka Princess, Leo Akintola, Lolu, Anto,Teddy A, Tobi Bakare, and Ifu Ennada.
However, on arrival into the house, the contestants were paired and told that whatever affected a housemate, his or her partner will be equally be affected.
That earned the show its title of "Double Wahala" where the paired housemates suffered eviction in the chase for the grand prize.
The evicted pair include, Angel and Ahneeka (Gelah), Bitto and Princess (Pritto), Dee-One and Vandora (Vandee) and Leo and Ifu (Lifu).
As the game progressed, bond swere built and relationships strengthen.
Big Brother also know as Biggie later dissolved the pairing of housemates and as such each was responsible for his or her conduct in the game.
This led to the eviction of other housemates until only five were left to continue the chase for the money. The five were Miracle, Nina, Tobi, Alex and Cee-C.
During the live grand finale, Nina and Alex were evicted, leaving Tobi, Cee-C and Miracle.
Finally, the 85 days joirney in house saw Tobi clinching the first runner up position while Cee-C came was the second runner up. (NAN).