By Peter Duru
MAKURDI—Governor Samuel Ortom of Benue State has described herdsmen attacks on Benue communities as an extension of terrorism being perpetrated by Boko Haram in the North-East.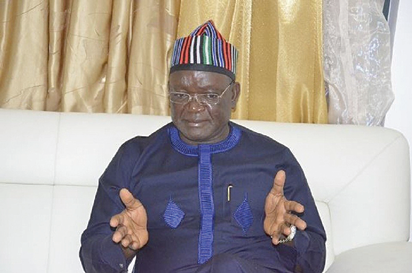 Governor Ortom was reacting to the Tuesday night coordinated attacks on communities in Logo and Ukum Local Government areas of the state by suspected herdsmen, where 15 people, including a 75-year-old man were reportedly killed.
He said: "The manner in which the armed herdsmen invade communities of the state and slaughter innocent people is not different from the mindless acts of Boko Haram in the North-East.
"They come with sophisticated weapons and kill people, machete them and chase them away."
Governor Ortom said equally disturbing is the pattern of attacks by the herdsmen; their trademark of occupying communities after killing and sacking the inhabitants.
His words: "In some cases, they do not have herds. They just come with their weapons, kill and chase the people out and take over the land: that is the worrisome part of it.
"The trend of attacks on Benue is beyond mere grazing of livestock. If the invaders were only interested in grazing, the massive destruction of lives and properties would not have been their priority."
Vanguard gathered that the affected communities in the latest attacks include Gbeji in Ukum Local Government Area; Ukemberagya/Tswarev ward, Channel One community, Orveren and Ajura villages and Tombo community in Logo Local Government Area of the state.
A former aide to the former governor of Benue State, who is from one of the affected communities, said: "It all started two days ago, but Tuesday evening, from 6p.m. and 9p.m. was when the fully-armed herdsmen came down heavily on the affected communities.
"They went to Gbeji in Ukum council and had a free day. They burnt down houses and killed about eight people in the community and injured many.
"They did not stop at that; they came down to Ukemberagya/Tswarev ward in Logo, at Channel One community of Tswarev clan and killed two people, burnt down houses and one motorcycle there.
"They came unchallenged from Tungwa in Nasarawa State to attack our communities and after the operation they usually pulled back or retreat to where they came from."