By Chidi Nkwopara, OWERRI.
The Igbo National Congress, INC, has called on Governor Rochas Okorocha to "immediately stop further demolition of business places of peasant traders in Owerri municipality, as well as pay compensation to all the traders, whose businesses were destroyed and goods vandalised in the name of urban renewal".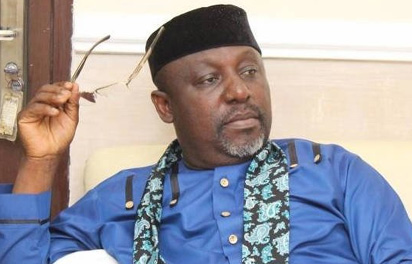 The INC made the call in a press statement signed by the group's National President, Mr. Chili's Godsent.
It was the considered opinion of the group that the current demolition and balkanization of business places of traders in Owerri metropolis, has caused more hardship to the famished traders and residents of the municipality.
INC claimed that the result of the intensive socio-economic and environmental impact assessment of the on-going demolition and balkanization of streets by the state government, which it conducted, was frightening.
"The on-going demolition of buildings along Douglas and Wetheral Roads in Owerri, has adversely threatened buildings on these roads. The purported expansion of Douglas and Wetheral Roads pose great danger to the foundations of over 70 percent of the buildings along the two popular roads in Owerri", the group lamented.
INC equally noted that "the excavation has exposed and put to palpable risk the foundation of many of the buildings, as the construction work is closely directed at the foundation blocks of many of the structures along the roads", pointing out that some of the buildings may risk collapse in the near future.
INC equally expressed reservations that none of the contracting firms carrying out the contraction works are identifiable and may not have been registered as construction firms or qualified to embark on construction works of such magnitude.
"We note that these faceless companies lack the technical skill and manpower to carry out the quality and durable construction work. We also note with great dismay that none of the contractors have their signposts at the construction sites, for proper identification", INC said.
Also top on the INC's shocking findings is that over 80,000 peasant traders and workers have been abysmally and recklessly displaced with impunity because of the demolition exercise.
"We fear the negative socio-economic consequences of the displacement of the peasant traders and workers, in this harsh economic situation the state and Nigeria. This is likely to increase hardship, promote crime and other anti-social vices in imo", INC reasoned.