Say some Nigerians tell us they are not interested
Maps out measures to avoid 2015 mistakes
FG can't ensure credible polls – Ann Kio-Briggs
By Clifford Ndujihe & Omeiza Ajayi
TO avoid a repeat of some of the mistakes and flaws that hallmarked the 2015 general elections, the Independent National Electoral Commission, INEC, has embarked on moves to ensure credible polls, next year. It has also urged the electorate to do their part of the duties by getting registered as voters, collecting their Permanent Voter's Card, PVC, and coming out to vote during the elections.
Lamenting that some Nigerians are already hurting the electoral process, the INEC told  Saturday Vanguard that many people are unwilling to collect their PVCs, lamenting that it now has over eight million of such uncollected cards in its kitty.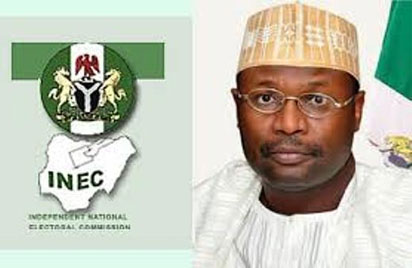 INEC's Director in-charge of Voter Education, Publicity, Gender and Civil Society Liaison, Mr Oluwole Osaze Uzi, in an interview with  Saturday Vanguard, added that while the commission in some cases had tried to reach out to some Nigerians to come and claim their cards, many of them said they were not interested or that they had relocated from were they were registered.
His words: "You know we do not distribute PVCs. They are collected. The onus is on those collecting. There are quite a few cases where the cards have not been printed but that is not the main issue. The issue is the collection. We have over eight million cards lying down in our offices, uncollected, and we have distributed them to our distribution points. It is now an issue of the collection. ''So, we are putting in place measures to assist those that are willing to collect their cards. We are simplifying the process, ensuring maximum publicity so that people will know the importance because, automatically, they are disenfranchising themselves when they do not pick up their cards. We are trying to persuade people. Some are not interested.
''Sometimes, we even try to call them. In Oyo State, I know that they even had to call people on phone but those that they were able to reach said they were not interested in the cards. Some said that they had relocated. So, we are making efforts. In some states, they have sent text messages too for collection."
2015 election mistakes
Non-distribution/collection of PVCs was one of the problems that plagued the 2015 election. While the INEC insisted on individual collection in some parts of the country, it allowed monarchs or district heads to collect and distribute the cards in other parts of the country.
Other problems included: malfunctioning card readers; inability of Direct Data Capturing Machine, DDCM, to capture fingerprints of voters in many locations; some states had surplus DDCMs and accessories while others had few;  people dislocated by violence vote in some locations but could not vote in some parts of the country; and poor handling of the voters register in which 82,206 men were captured as housewives (due to input error during voter enrolment) among others.
According to the INEC's ''Smart Card Reader Accreditation Backend Transmission System'' of the 2015 Presidential and National Assembly Elections, only 10,266,139 (43 per cent) of the 23,643,479 voters accredited had full-biometric authentication while 13,377,340 (57  per cent) failed biometric authentication and were allowed to vote if they showed their PVC.
Going further, there were 23,643,479 accreditations but the total votes cast (declared result) was 29,432,083 and percentage of voters accredited with smart card readers, CSRs, was put at 80.
A breakdown of the accreditation showed that while the INEC enforced full-biometric accreditation in many parts of the South the measure was relaxed in most parts of the North.
For instance, states where most of the voters voted without full-biometric accreditation include: Kano (82.5%), Nasarawa (78.6%), Sokoto (77.1 %), Zamfara (75%), Taraba (75 %), Kwara (73.4%), Katsina (72.4%), Borno (69.6%), Yobe (68.6 per cent), Kebbi (66.8 %), Jigawa (66%), Bauchi (61.3%), Niger (57.2%), Kaduna (54%), and Plateau (52.6%).
Southern states where most voters voted without full-biometric accreditation were Bayelsa (77%),  Imo  (64.1%), Ebonyi (59.4%), Anambra (57.1%), Akwa Ibom (55.2%), Enugu (52.9%, and Ekiti (50.5%).
States where the INEC strictly ensured full-biometric accreditation until later in the day had a lower percentage of people voting with only PVC accreditation. Most of such states are in the South. They include: Lagos (24.6%), Abia (31.9%), FCT (36.5%), Osun (38.9%), Delta (39.8%), Oyo (41.2%), Kogi (42.2%), Edo (43.7%), Ogun (44.4%), Cross River (45.5%), Ondo (46.3%), Gombe (47%), Benue (48.5%), and Adamawa (48.9%) (see table).
FG can't ensure credible polls – Ann Kio-Briggs
Looking at the scenario and the state of the nation, Environmental Rights Activist and Convener of Niger-Delta Self-Determination Movement, NDSDM, Madam Ann Kio-Briggs, feared that the government would not ensure credible elections, next year.
She said: ''This government lacks the capacity to conduct a free and fair election in a country like Nigeria where the government wants to grant amnesty to terrorists. The result of the election will not be a true reflection of the people's will.
''There are many foreigners in the country. Now, if you registered in Kano, you can vote in Port Harcourt. Now, the foreigners are moving into different parts of the country. There are massive and sinister movements into the Niger-Delta with the game plan of voting in 2019. If you look at those moving into the Niger Delta, the economic activities or menial jobs they do cannot sustain them.''
2019 will be free and fair – INEC
However, the INEC insists that it has put measures in place to ensure credible polls in 2019. One of the measures is to ensure that no one is disenfranchised, hence it has embarked on continuous voters registration across the country, distribution of PVCs and provision for those who had relocated from where they registered in 2015 to transfer their votes to the new location.
Indeed, on concerns about the functionality of the Smart Card Readers for the 2019 general elections, Osaze Uzi said: "If there was a widespread malfunction of card readers in 2015, how come many people are now requesting for card readers? Those are just assumptions because if they so malfunctioned, Nigerians will not be clamouring for card readers, they will not be introducing a law to back the use of card readers. So, I disagree with that and I think most Nigerians disagree that there was a widespread malfunctioning of card readers in 2015. Yes, there were challenges but it was not as widespread as being suggested.
''We are optimizing the card readers to make sure that they work optimally and we are partnering with the Nigeria Communications Commission NCC and Nigeria Communications Satellite NigComSat to, apart from using the readers for accreditation, to also use them for other voting activities".
On what the commission is doing to ensure error-free voter register, he said: "We have just finished what we call claims and objections and the whole essence of the claims is for people to come and verify their details and ask that errors be corrected if any. We have just finished that and they will still have another opportunity of doing that again and once that is done, the details are corrected. We also try to use what we call business process rules, that is, the back-end of physically trying to go through the whole process to see what we have got. Of course, we encourage people to get involved in these claims and objections. That is the ideal time for them to tell us what is wrong in the details and have us correct same."
How INEC is correcting 2015 mistakes
* INEC embarks on continuous voters registration, CVR, transfer of voters and PVC distribution across the country since April 27, 2017
* Approved the redistribution of DDCMs and accessories for CVR kick-off
* Each registration team has two DDCMs and a laptop to host national voters register in searchable pdf format.
* Preliminary Register of Voters, PRV, to be displayed at registration  centre  for seven days for claims and objections before printing of PVC.
How to transfer your voter's card
If you had changed location since the last voters' registration, below are six steps you can take to ensure that you vote in your new location:
1 Apply to the Resident Electoral Commissioner through the Electoral Officer of your current Local Government of residence indicating your current address.
2 Collect ECTF form (application for transfer of a registered voter) from Registration Area Officer IV (RAO IV)
3 REC approves application
4 Application forwarded to HOD (ICT/VR) to effect transfer on server
5 Collect your PVC next quarter
6 Distribution Officer authenticates PVC using Smart Card Reader, SCR