British Prime Minister Theresa May's decision to expel 23 diplomats and suspend high-level contacts with Russia is a "soft" response unlikely to worry Moscow, but allows for further retaliation, according to analysts.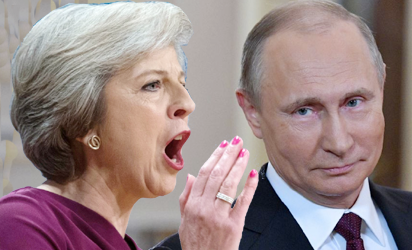 May announced the moves on Wednesday after her government found Russia "culpable" of the nerve agent poisoning of former spy Sergei Skripal and his daughter Yulia in Britain.
The pair were found in a serious condition in the cathedral city of Salisbury southwest of London on March 4.
Jonathan Eyal, international director at London's RUSI military think tank, said the reaction "appears to have been much less than initially expected".
He noted the response should be seen as a "first step" in Britain confronting Moscow, given May chose not to expel the Russian ambassador to London, nor initiate a complete cut-off in relations.
"So in many respects the prime minister was keeping some ammunition dry for a future confrontation," Eyal added.
He added that the limited measures announced suggested May's eagerness "to have some level of cooperation with the Russians in the future".
– 'Weak' response –
May said she did not want to break off relations entirely as she announced that the 23 Russian diplomats, believed to be intelligence officers, must leave Britain within a week.
Britain also suspended all planned-high level contacts, including an invitation for Foreign Minister Sergei Lavrov to visit.
May vowed to clamp down on Russians suspected of "hostile state activity", freezing assets for those in Britain and detaining those arriving at the border.
In addition, neither members of the royal family nor ministers will attend the football World Cup in Russia later this year.
Sam Greene, head of the Russian Institute at King's College London, noted expelling diplomats was a "calculable" response that Moscow would likely mirror.
"It's a large number of diplomats, but in this case it's not so much the size that matters," he told AFP.
"We haven't yet seen anything that, in my analysis, will lead to a change in policy stance of the Kremlin."
Greene said May's response would buy time for Britain's investigation to proceed and for Moscow, which is wrapped up in domestic politics ahead of this Sunday's presidential election, to respond more fully.
But he cautioned: "If anybody is hoping that this might provide some concessions or cooperation from Moscow then that's not going to happen before the Russian presidential election.
"I'm sceptical that it would happen even after."
Mathieu Boulegue, a research fellow in the Russia and Eurasia programme at Chatham House, the Royal Institute of International Affairs think tank, agreed the response was "weak".
"There is a very clear disconnect between the announcement that Russia is an aggressor state against (Britain)… and the level (of) response which is particularly weak," he told AFP.
Boulegue added measures such as withdrawing the England football team from this summer's World Cup in Russia or the immediate implementation of economic sanctions against Russian oligarchs would have been more robust.
Subscribe for latest Videos