The dream of young entrepreneurs to build successful businesses has received a major boost following the formal launching of the Stanbic IBTC Blue Lab, a facility that avails start-ups and small and medium-scale enterprises, SMEs, the platform to incubate and actualize their dreams.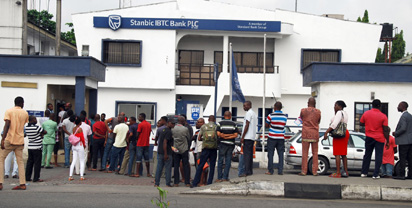 Speaking at the inauguration of the innovation platform in Lagos, Dr. Demola Sogunle, Chief Executive, Stanbic IBTC Bank Plc, said that constant innovation is imperative to securing the future of any enterprise.
He noted that new technologies alone will not guarantee future success, as the ever changing demands of today's highly informed consumers make continuous innovation inevitable.
Located at Yaba, the emerging innovation hub in Nigeria, the facility boasts of meeting and open areas where techprenuers could network, brainstorm, research and nurture innovation and ideas, under a setting that ensures full concentration and support from Stanbic IBTC experts.
Sogunle stated: "As a member of the Standard Bank group with over 154 years of existence, it is clear that we are here for the long term. We are on a marathon, not a sprint and we understand the importance of innovation in sustaining the tempo that is required to remain in business. This is why we have invested in the Stanbic IBTC Blue Lab, an innovation hub that will serve as an incubator for our young thinkers with great ideas. It is a hub that will help to nurture the ideas that will re-write our future. The hub is part of our strategy to lead with innovation."
He emphasized that a demonstration of the organisation's commitment to harnessing innovation and technology to build communities is underscored by its pervasiveness on several social media platforms; including Twitter, Facebook, LinkedIn and Instagram, as well as the establishment of an all-digital branch in Lagos, all designed to make financial products and services easily accessible to a wide array of clientele, including the youth.
Founder and Managing Director, Sankore Investments, Titi Odunfa-Adeoye, commended Stanbic IBTC for its foresight in championing the innovation revolution in Nigeria, adding that the bank showed uncommon interest in partnering with her organisation, which was instrumental to facilitating the rapid growth of Sankore.
On his part, Managing Partner, Co-Creation Hub, Tunji Elesho, noted that the establishment of the innovation lab by Stanbic IBTC was not by happenstance. According to him, it stemmed from a perceptive recognition of the innovation ecosystem around Yaba and the need to deepen its evolution with both financial and advisory support.