By Onozure Dania
Lagos—THE National Human Rights Commission NHRC, has called on politicians to avoid using hate speeches in their campaigns and utterances in the forthcoming  2019 general election to create tension in the country, as all acts of hate speech and election violence will henceforth be investigated and prosecuted.
The Acting Executive Secretary of NHRC, Mr Tony Ojukwu, made the disclosure during the flag off of three days sensitisation and public hearing on hate speeches and election related violence, organised by NHRC, in collaboration with Macarthur Foundation  at Federal High Court, Lagos.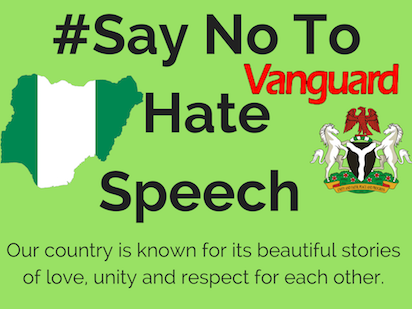 He said the commission had carried out a similar campaign against hate speech and election violence, in 2015.
"You will recall the tension created in the polity due to hate speeches during the 2015, general election. It took the cooperation of all stakeholders to ensure that the whole scenario did not degenerate into massive election violence like in 2011 general election.   Kenya is still suffering from the effects of hate speeches and election-related violence. The experience of Rwanda is there for us to learn from.
"The purpose of the present campaign is to discourage the use of hate speech and election violence as we approach the 2019 general election. For those who choose to use the tools of hate speeches and election violence will be investigated and prosecuted and made to account for their actions.
"Persons found to be culpable of hate speech will be recommended for prosecution by the Attorney General of the Federation or Attorney General of the state," Ojukwu said.
NHRC also pleaded with the members of public to report any cases of use of hate speech during the campaign preceding 2019, general election to the commission, noting  that a register of persons indicted for hate speeches and election related violence had been opened, so that researchers and students of history would have such register as a reference point.
Subscribe for latest Videos