The governor of Imo, Mr Rochas Okorocha, on Thursday in Owerri called for the creation of a ministry of inter-religious affairs in the country.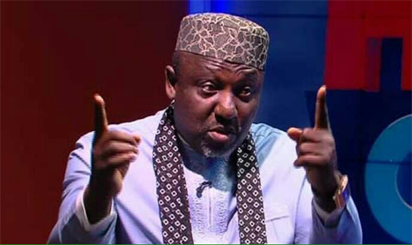 Read Also: Okorocha explains choice of son in-law as successor
Okorocha made the call while receiving a delegation of the National Council on Establishment (NCE), led by the Head of the Civil Service of the Federation, Mrs Winifred Oyo-Ita.
He argues that ministries should be created as the need arises, to meet the needs of the society, noting that most of the existing ministries were moribund.
The governor advised the head of the civil service and her counterparts in the states to think outside the box and be innovative in running the affairs of the civil service.
"I urge all heads of service and permanent secretaries to always adjust quickly to the visions of their governors for national growth and speedy development.
"Do not waste time when it comes to implementation of policies and projects, avoid unusual protocols and bureaucracies and do what is right for the nation.
"Always put your nation first and shun every form of distraction and detractors because that is what has helped in the development of Imo State."
Okorocha commended Oyo-Iya for her resilience, calmness and toughness in handling the affairs of the civil service of the federation.
Read Also: 2019: APC loyalist lashes Okorocha for endorsing son in-law
He said that four universities were currently under construction and that 455 schools had been built in the state during his administration because he believed education was power.
Okorocha said that education was free for all Imo indigenes from primary to tertiary levels, noting that many new roads had been built to ease traffic in the state.
Oyo-Ita thanked the governor for hosting the 40th NCE meeting.
She expressed her joy over what she described as high-level progress in the state, describing the development as wonderful.
The head of service explained that the NCE was a statutory council that holding annually, where important matters that relating to the civil service and establishment were reviewed.
"You have proven that the Imo State indigenes were not wrong in choosing you as their governor.
"We have come to show our loyalty to you. I am extremely impressed by what is done in Imo State. It is simply awesome.
"We are very conscious of the importance of civil servants in making the visions of our political leaders a reality.
"That is why it is very important that there is a unified structure for the civil service. Civil servants are often not seen but our impact is felt in the administration of the day," she said. (NAN)