By Egufe Yafugborhi
Governor Nyesom Wike of Rivers State has said Nigeria is now completely directionless, with the country permanently on a dangerous downward slide.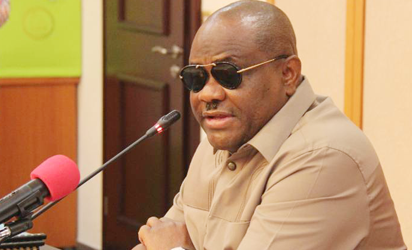 Governor Wike, who spoke while swearing-in four judges of the Rivers State High Court and Customary Court of Appeal at the Government House, Port Harcourt, Monday, regretted the politicisation of governance process, which he said has entrenched despair across the country.
Wike commended elder statesman, General Theophilus Danjuma(retd) "for saying the obvious truth about the security architecture of the country."
According to him, "Nigeria has got to a point that we don't know where we are heading. I don't usually fast, but I will fast for God to keep General Danjuma. He has said the obvious truth. It is happening daily in Rivers State.
"We are setting up our Neighbourhood Safety Corps, but they are generating crisis.
"We only replicated what is in existence in Lagos State, but nobody queries that of Lagos State. Only recently, Nasarawa State launched her outfit without being challenged."
The judges sworn in by Governor Wike are Justice Godwin Ollor and Justice Uche K-Chuku of the Rivers State High Court, and Justice Legor Senewo and Justice Frank Onyiri of the Rivers State Customary Court of Appeal.