The President, Nigeria Youth Organisation (NYO), Alhaji Abdullahi Wali, has commended President Muhammadu Buhari for ensuring massive investment in agriculture which he said had improved local production of rice and other farm produce.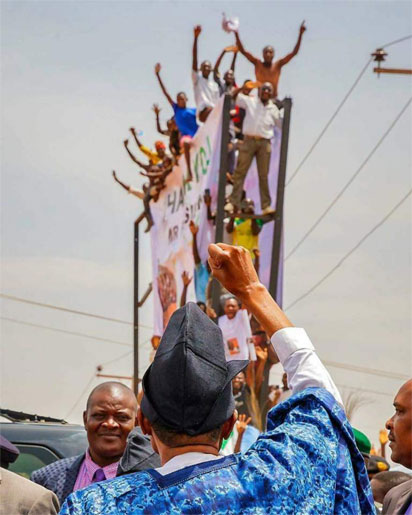 Wali made the commendation in an interview on Sunday in Abuja.
He said that Buhari's policies on agriculture had stimulated massive rice production in Kebbi, Niger, Kaduna, Jigawa, Ebonyi, Nasarawa and Lagos states.
" For instance, Anchor Borrowers Programme (ABP) has improved local production of farm produce and enhanced fertiliser distribution and access across states through the Presidential Fertilizer Initiative.
" Under ABP, 200,000 small holder farmers from 29 states of the federation benefited and 233,000 hectares of farmland cultivating eight commodities, namely rice, wheat, maize, cotton, soya-beans, poultry, cassava and groundnuts.
" No doubt, the Buhari administration has delivered its campaign promise in the area of economic diversification and degraded Boko Haram terrorists in the North-East," Wali said.
He also praised the governors of Ondo, Edo, Delta, Imo, Cross River, Ogun, Kaduna and Plateau states for their support for the Presidential initiative for palm oil, rubber, cashew, cassava, potatoes and other crops.
The youth leader said the anti-corruption crusade of Buhari was very impressive and appealed to the judiciary to support the President to rid the country of corrupt officials.
Wali said that Buhari's leadership style had renewed the hope of ordinary Nigerians; enhance social justice and harmonious peaceful coexistence among citizens.
" President Buhari leadership style is a source of inspiration to all honest Nigerians because it is entirely different from all other governments Nigeria ever experienced since independence in 1960.
" I appeal to all Nigerians, irrespective of political inclination, to support and encourage President Buhari's quest to fight corruption even more than what he is presently doing."
He advised Buhari to vie for the presidency in the 2019 general elections, saying that the President deserved a second term in office to consolidate his achievements.
Wali advised politicians to see power as an instrument for development, not meant to intimidate oppositions, adding that power was a mechanism for reaching out to equitable distribution of resources for the citizens. (NAN)