By Victor Ahiuma-Young
FORMER President of Nigeria  Labour Congress, NLC and immediate past governor of Edo State, Comrade Adams Oshiomhole, in this interview,   speaks among other things, on trust as the bedrock of any strong and successful labour leader.
Labour leaders,  workers' relationship
My experience is that Nigerians can easily trust, but you have to service that trust. That servicing is minute by minute and second by second. Once there is a perception, real or not real, people are guided by perception and attitude is shaped.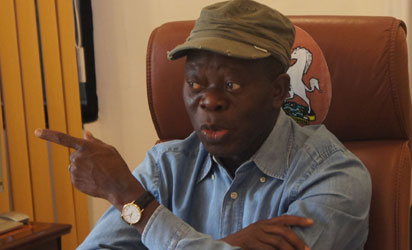 The reactions are often the outcome of how people perceived things, not necessarily in the way things are. So, perception management can be quite challenging. People watch and listen to all sides of the debate and decide who they can trust for this purpose.
When they say it, do they mean it? Do we trust them? Those are perception issues arising from careful analysis of your set of behaviours. Over time, people form opinion on whether they can trust or not trust. For the NLC, it is particularly challenging because you do not have instrument of cohesion.
You cannot get the army or the police or DSS to arrest anybody who says he does not believe in what you want to do.  So, how do you convince the public on the thing you are saying? Why should they believe you? I remember some very challenging times when we were to go on strike during fasting. We were not conscious of religious issues.
For us, the issue before us affects everybody regardless of your religion even those who do not believe in God, the policy will affect them. But those advising President Obasanjo realised that they could use religion to scuttle the strike. They started saying why should we go on strike during fasting?
You will recall that the then Sultan,  the then Ooni of Ife, and all the first class regional traditional rulers of note, were put on NTA. Then we were still using "090….." and your main source of information was largely government-owned media. The message was why should NLC want to disrupt the fasting of Muslims?
One notable traditional ruler who refused to speak on NTA calling on Oshiomhole to suspend the strike was the then Oba of Benin who told Tony Iredia that as a Benin man, he should know that the Oba does not speak to his children or subjects through television.
He has their traditional ways and he is not going to do so because the government wants him to talk. He chose to write me a letter which was delivered by two chiefs to give me what he considered as his advice on the issue we were dealing with, but not through NTA or newspapers.
However, we were able to counter the government by saying that it was the height of insensitivity on the part of Obasanjo government, knowing that fasting is about abstinence and self-imposed hardship that people agreed to subject themselves to, believing that God in the process will not only forgive them their sins, but will answer their prayers.
How could he choose this time to impose hardship on Nigerians? We told those traditional rulers who were saying the timing of the strike was wrong, to go and tell President Obasanjo to be sensitive to at least, our Muslim brothers and sisters. So, who did the Nigerians believe? The people believed our argument more than the government as evidenced by their participation in the strike.
NLC as alternate govt
To be honest, President Obasanjo is strong-willed and for him, every battle is fight to finish. You remember after series of engagements and he got so frustrated that people prefer to listen to us and follow us than follow him, he had to do national broadcast to say that I was behaving like an alternate president and NLC was conducting its affairs like a parallel government, and that he was not going to tolerate it anymore.
For me, that was the summary of my stewardship; that first, Nigerians can defy authorities if the issues are clear to them. That ethnicity can take the back burner if the issues are such that everybody can see how they can connect to it and the person leading, substantially can be trusted about the things he say and can argue his position convincingly.
For me, the presidency of the NLC is more challenging than the governorship of a state. I mean it in every respect. You have to get things done without inducing anyone. A couple of times we organised those national strikes without funds to mobilise.
I remember one particular occasion we were to give each state council N10,000 to go and organise and ensure that the strike was successful, to print leaflets and so on.
By the time I asked Ivor Takor, who was our national treasurer, he told me that we had only N300,000. We needed N360, 000 to be able to pay N10,000 each to the state councils. That, including the money needed to mobilise in Abuja.
We told the leaders of the state councils to go back to their states and ensure that the strike was successful, later they could come and collect their N10,000. To get people to be ready to do those things, they also have to trust that the huge sacrifices you are asking them to make, that you are also going to make it.
That was why, if you recall, as we had those protests, I was always in front. In one of those strikes, I was in the front when Alobi as Commissioner of Police in charge of operations at the Force Headquarters then,  led and tear-gassed us at the Federal Secretariat. I was part of those who inhaled the deadly tear gas. That way, the people could see that I was not asking them to take risk that I myself was not taking.
Future of NLC
For the working people, a strong NLC is a must. There is no alternative to a strong virile and united NLC. It may not be a perfect NLC, but NLC that is capable of knowing when to bark, when to endorse and when to fight.
The only visible sure way to such an NLC is unity. That is why I am pained that anybody within the labour movement could on account of election, not issues, back out of NLC. NLC does not belong to the president or whoever presides at any point in time, or even the group of leaders there at any point in time.
It belongs to workers because it is funded by workers. It is not like some sections of the civil societies that are funded by DFID or other foreign organisations. NLC is funded by Nigerian workers from their pay cheques. Therefore, it is accountable only to the Nigerian workers and working families. So, its unity is non-negotiable. That is a starting point.
The second is that the Nigerian environment would get more and more complex. As democracy is deepened and all manner of people are forming political parties, bidding for power, giving the 18 years of the nation's democracy, we can see that NLC's role will always be extremely important.
Even if labour is able to form a government, it will not extinguish the role of an independent labour movement because even angels deserve to be policed if they are in political space. I think the challenge is how NLC can do what Ejiofoh has always argued when I was there. But I must admit I am not sure how much we were able to do it.
That is, invest substantially along with all its affiliates, in training and retraining of union cadre. When I say training and retraining of union cadre, I am not speaking about one week or two days workshop, with lousy opening ceremonies and very little content.
But sending people to institutions where they can pursue at least, one year or two years of consistent  training on a course of study that is structured to deal with issues such as industrial policies, industrial economics, labour economics, basic laws,  industrial psychology or sociology and those related things that will enable you interpret the balance sheet of company and engage in public finances, monetary policies, fiscal policies and things like that.
Not that in the end you are going to have any one man who is a professor of everything, but you have people who can sufficiently, with little briefing, understand the complexities of these policies and how they would impact overall on public welfare, not just salary earners. To invest, given the current resource profile, establish a research unit or department to be manned by seasoned economists, sociologists, lawyers and other facets of human endeavours because all of these things will impact on the world of work so that when labour leaders talk, they talk with knowledge.
As I was taught in my younger days, the union leader must be a jack of all trades and master of all. He must necessarily have answers to questions. How is he going to have answers to all questions? He must have the basic training and sufficient level of exposure.
When people come to seek opinion, he must be able to provide. What he does not know, he should be able to say come back next week and you will have my position. He consults with relevant section of the movement. If there are economic questions or any other issue, you have the experts in the department. The man comes back, you provide him with the answer. One way or the other, there are people whose business it is to search for those answers and you pay them.
Battle of ideas
As the world becomes more digitalised, the character of the struggle will move away increasingly to battle of ideas, no longer about your capacity to disrupt. With current technologies, there are systems that you can remote-control. So, physical action would not be as potent as it used to be years ago.
So, to cope with the challenges of the digital world in which fewer workers are turning out huge output, the capacity to threaten the employers including the state in the traditional ways that the Michael Imoudus would do or even the one I did when I was there along with my brothers and sisters, the tools increasingly have to change. Now you have the social media that should work to the advantage of the NLC because government no longer has the monopoly of information dissemination.
As it is today, everybody is an editor, a reporter or a publisher although, the outcome is that you have the good, the bad and the ugly. But whether you like it or not, this is the world we are in. Now, if you have to be a key player in this world and be listened to, you must understand the challenges that this new information super high way imposes on those who want to influence public opinion and even to sustain mass action. So, you have to review your training manuals to deal with this changing world.