DearBunmi,
My last relationship was violent and sexually abusive. Even after we split up, he stalked me and made my life miserable.
It took a long time for me to shake him off, but now I'm beginning to build my life up again. I've even met a new man and I'm very happy with him. But I can't bring myself to sleep with him because of what happened in the past with my ex.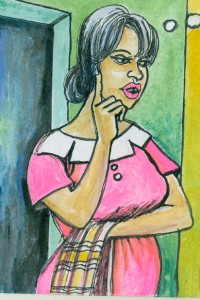 My new man is very understanding, but we've been together for five months now and I don't know when I'll ever be ready. Will I be able to make this relationship work?
Lizzy, by e-mail
 DearLizzy,
You might not if you put too much pressure on yourself. You've been through a great trauma and it's important to take time to fully recover without any pressure of sex.
It's great your new man is understanding, but it's unfair to make him wait indefinitely.
I think you know this, that's why you're being so hard on yourself.
Perhaps it would help to get some counselling and if your man gets involved too, he can better understand how to help.
However, he won't hang around for ever. Take your life back by learning to trust again. Not all men are thugs.