By Rotimi Ojomoyela
ADO-EKITI—THE crisis rocking the Peoples Democratic Party, PDP, in Ekiti State over the succession plan of Governor Ayodele Fayose took another twist, yesterday, as some party chieftains believed to be loyal to former Minister of State for Works, Prince Dayo Adeyeye, were suspended.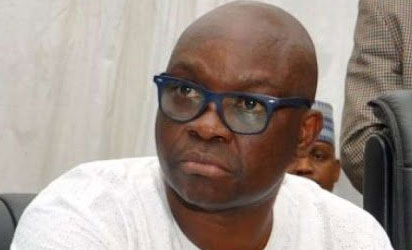 Those affected by the action were an elected councillor  for Ido/Osi Ward, Abiodun Daramola and the PDP Ward chairman, Sunday Ojo and seven women Ward leaders from Ado-Ekiti.
In a telephone chat with newsmen,  the suspended  councillor, Daramola, disclosed that some policemen from Ido Police Station stormed the council secretariat with handcuffs to arrest him.
He said: "The policemen told me that they were acting on instructions from Fayose not to allow me to sit in plenary at the council legislature with my colleagues.
"I was saved the agony of being dragged to the Police station because of my personal relationship with the policemen sent to arrest me. I later learned from my colleagues that I was being punished for being an Adeyeye boy."
 Adeyeye Movement reacts
Reacting to the arrest, the Prince Adedayo Adeyeye Movement, PAAM, described the suspension of the elected  councillor  and ward party  executives  as "illegal, unconstitutional, null and void."
In a statement, PAAM's  Director of Media and Publicity, Niyi Ojo said: "One is embarrassed that a governor of a state does not know the rudimentary provisions of our Constitution and the PDP constitution in respect of elected officials.
"We are members ofthe  Peoples Democratic Party, PDP, and not Ayo Fayose Democratic Party. All other loyal party men and women should not bow to this act of cowardice from the governor."
 We'll look into the matter—PDP Chair
When contacted, the state PDP Chairman, Mr. Gboyega Oguntuase, said that though the decision to suspend the officials was yet to be communicated to him, he promised to look into the matter.
Oguntuase said: "Whatever decision taken has not been communicated officially to the party but we reserve the right to look into it.
"We don't want our people to read meanings into it but such matters will be looked into dispassionately and nobody will be punished for an  offense not committed. But in a political party, you are not expected to lead an unregulated life."