By Godfrey Bivbere & Gbenga Oke
The Bureau of Public Enterprises, BPE, yesterday sought collaboration of the Nigerian Maritime Administration and Safety Agency, NIMASA, to refloat the collapsed National Unity Line, NUL. The NUL before its collapse was a government known shipping company with just one ship on its fleet.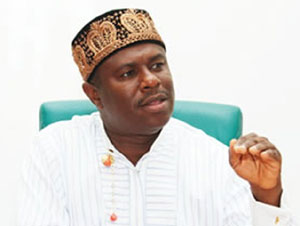 Director General of the BPE, Alex Okoh, during a visit to NIMASA head office in Lagos, stressed the need for the apex maritime regulatory agency to help actualise the refloating of NUL with the private sector as operators.
Okoh noted that though the NUL was no longer operational, its license was still very useful especially as it concerns the Cabotage and Local content Acts.
He stressed that businesses were better managed by the private sector and that government had very little to do in business apart from creating an enabling environment for businesses to strive.
According to him,  "We have looked at the Nigerian Unity Line and the only tangible asset they have is operating license. The license confers on the enterprise certain privileges, deriving from the Cabotage Act and also from the Local Content policy. This can be the foundation for the building block of a virile shipping business in Nigeria".
He called on the agency to take a common position with the Bureau in realizing the privatization mandate, to be forwarded to the National Council on Privatization as the strategic way forward for handling this particular NUL case.
He commended the Dakuku Peterside led Management of NIMASA for its effort at repositioning the maritime sector, adding that the "BPE is the agency of government that is responsible for sector reforms and enterprise reforms of the Federal Government."
Peterside in his speech, said NIMASA was willing to partner BPE to refloat NUL.
The NIMASA Director-General noted that shipping, to an extent, defines the growth trajectory of any nation especially as relating to seaborne commerce.
He noted that the greatest asset in the maritime space is the vessel itself and if there are no vessels, one cannot be a major player.
According to him, "You can only be a major player in name, but in reality you will not get maximum benefit from trade," he pointed out. The only way to guarantee the efficiency and effectiveness of shipping, which will add value to the economy, is through the involvement of the private sector."
The NIMASA DG noted that the Minister of Transportation, Rotimi Amaechi, had initiated a process where people from the private sector would pull resources together to float a National Fleet, facilitated by the Ministry of Transportation and NIMASA, stressing that the process which would enhance the Nigerian Flag, was ongoing.
He said: "The emphasis of the Federal Ministry of Transportation is to drive a process where we will refloat the National Fleet, this time with the core investors that will own 49 per cent of the shares, whereas, Nigerian Ship Owners will own 51 per cent of the shares of the firm and the firm will also be given the National Career Status. We are looking at different models, hence the importance of this engagement, so that we can review what has happened over time and choose the best model."