The presidency on Tuesday summoned the Inspector-General of Police, Ibrahim Idris, for questioning over why he breached President Muhammadu Buhari's order to relocate to Benue following the January 1 killings in the state.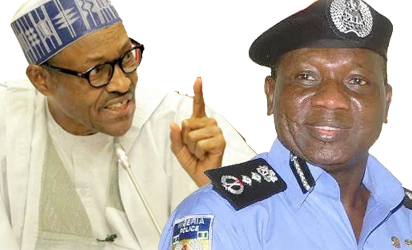 President Buhari received Idris in a private audience. And Idris left about 30 minutes after without speaking to pressmen.
President Buhari had on Jan. 9 ordered the Inspector-General to move to Benue to check the reported cases of attacks on innocent citizens.
However, President Buhari who was on an official visit to Benue on Monday in continuation of his tour of troubled areas in the country was told by Gov. Samuel Ortom of Benue that the Inspector-General refused to obey his directive.
Ortom, who is not a fan of Idris, alleged that Idris only spent 24 hours in Benue, and later moved to neigbouring Nasarawa state.
"The president demanded for a full report on police operations till date after which he will make further decisions", a source told NAN.
""There is a renewed resolve to make sure that the killings and bad security situation in Benue State abates,'' the source further said.
When contacted, the Senior Special Assistant to the President on Media and Publicity, Malam Garba Shehu confirmed the meeting but refused to disclose details.
However the Peoples Democratic Party, PDP, has chided President Muhammadu Buhari for saying he was unaware that Inspector General of Police, IGP, , Ibrahim Idris, did not carry out his orders regarding the security situation in Benue State.
According to the party, such admission shows that the President is running an incompetent and uncoordinated government.
The party said President Buhari had irredeemably "indicted himself" for not knowing that the man tasked with the security of the nation failed to take orders from him (the Commander-in-Chief), stressing that such unpardonable gaffe was responsible for "government's wrecking of the nation's once robust economy as well as other woes that have befallen our nation in his almost three years in office."
The PDP, in a statement by its National Publicity Secretary, Kola Ologbondiyan, yesterday, urged All Progressives Congress, APC, and supporters of the President to take their minds off the Aso Villa ahead of 2019 elections now that their leader and sole candidate had practically admitted his incompetence to run an effective government as desired by Nigerians.
It said: "Nigerians have completely lost hope in President Muhammadu Buhari and his incompetent administration. By stating that he was unaware that the IGP only spent 24 hours in Benue State, Mr. President has confirmed that he has not been effectively monitoring the handling of the security situation of our nation."