By Johnbosco Agbakwuru
DELTA State Commissioner for Commerce and Industry, Barrister Mary Iyasere, weekend, expressed confidence that the state Governor, Dr. Ifeanyi Okowa would outrun other contenders from the opposition political parties in the 2019 governorship elections.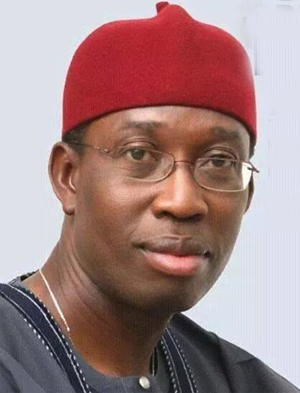 The Commissioner said the governor's re-election would be a smooth ride based on his giant strides in industrialization and economic revival of the state.
Speaking in an interview with Saturday Vanguard, Barrister Iyasere explained that ailing companies inherited by the state government were coming on stream through strategic partnership with the private sector.
She said since assumption of office, Governor Okowa has taken bold initiatives to reduce unemployment in the state with Skill Training and Entrepreneurship programme, STEP, and Youth Agricultural Entrepreneurs Programme, YAGEP, under the SMART AGENDA development blueprint .
She said that Delta was on the threshold of a gradual industrial revolution and economic prosperity.
According to Iyasere, "The Okowa administration is reviving moribund industries like Bendel Steel among others to boost the economy of the state  and thousands of youths have been trained and equipped to own their businesses in Delta state."
The commissioner noted that the state government inspired the youths to establish the various vocational ventures  for wealth creation and enduring means of survival towards the fulfilment of their destiny and overall growth of the state.
According to her, "With the productive engagement of the younger generation, incidents of youth restiveness, pipeline vandalism and all forms of economic sabotage and criminal tendencies have reduced. Okowa 's populist policies have endeared him to Deltans. He is a leader with tremendous goodwill across the three senatorial districts of the state .Okowa has no rival. He will emerge victorious in the 2019 governorship elections."
On political appointments, the female Commissioner said the Okowa government was gender sensitive.