UNITED Labour Congress of Nigeria, ULC, and the National Union of Food, Beverage and Tobacco Employees, NUFBTE, have lauded President Muhammadu Buhari for the recently signed Executive Order barring foreigners from taking jobs that could be performed by Nigerians. ULC in a statement by its president, Joe Ajaero, titled Nigerian Jobs for Nigerians: Buhari,s Executive Order, said: "The Executive Order by President Muhammadu Buhari  barring foreigners from taking jobs that could be performed by Nigerians is a laudable development not just to Nigeria but to all workers of our dear nation. We commend this bold initiative which is in furtherance of government's drive to domesticate and Nigerianise our consumption and purchasing patterns by focusing on promoting local content.
The statement noted among other things that "ULC is excited at the news coming out of the Presidency that an Executive Order has been signed to stop the haemorrhaging of our jobs and its attendant losses in tax and its various economic multipliers.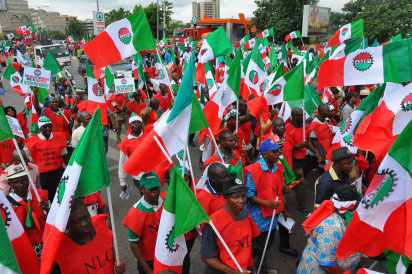 "We congratulate Mr President for showing understanding of the urgency for action which the situation demands and the criticality of this to our reclaiming our destiny as a nation from the hands of unpatriotic organisations and individuals who act in connivance with some foreigners to steal our jobs and deny this country the benefit of deepening our capacities and improving our know-how through hands-on approach while at work, including the various improved national income that boosts domestic consumption."
In an appreciation to President Buhari through the Minister of Labour  and Employment, President of NUFBTE, Lateef Oyelekan, contended the executive order would be the beginning of a concerted action that would effectively prevent the prevailing incidence of foreigners taking over jobs that readily available and highly competent Nigerians could do.
"Recall our previous reports highlighting the notorious and prevalent incidence of unabated abuse of expatriate quotas by virtually all companies in Food and Beverage sector in Nigeria.
"Before this intervention of the President, the situation degenerated to a sore point where positions such as Sales, Finance Managers etc. have ridiculously become the exclusive preserve of all manners of foreigners most of who lack the requisite qualification and experience for the job.
"Therefore, the introduction of Presidential Executive Order 5 has come as a big relief to the hapless and heavily deprived Nigerian workers."