By Bartholomew Madukwe 
Honeywell Group, a conglomerate based in Nigeria, has said it was not aware of any official copy of the purported ruling of the Nigerian Bar Association (NBA) that cleared a senior lawyer, Mr. Kunle Ogunba, whom the Legal Practitioners' Privileges Committee (LPPC)  stripped of the rank of Senior Advocate of Nigeria (SAN), from the misconduct allegations it raised.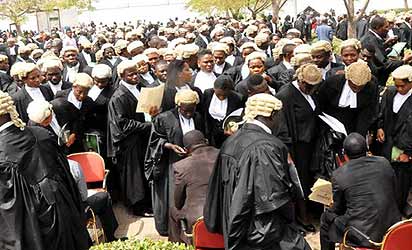 In a petition against Ogunba, Honeywell Group had accused him of professional misconduct, saying he instituted a multiplicity of proceedings before different judges of the Federal High Court on the same subject-matter, with the deliberate aim of abusing the process of court and derailing the course of justice.
The company, in its letter dated January 17, 2018, to the NBA President, Mr. Abubakar Mahmoud, SAN, requested the NBA to officially avail it of a copy of the alleged ruling where Ogunba was cleared of any misconduct, if such exists.
Honeywell Group pointed out that based on the series of its correspondence with the NBA, what it can only ascertain is that it submitted a petition dated April 7, 2016 with respect to some acts of professional misconduct by Mr. Kunle Ogunba.
"The petition was received and acknowledged by the NBA on April 8, 2016. On October 26, 2016, we received a letter from the NBA forwarding Ogunba's response to Honeywell's petition," the company stated.
The firm, via a letter dated November 23, 2016 issued a rejoinder to the response. The rejoinder and a further affidavit in support of the response were duly received and acknowledged by the NBA on December 2, 2016.
Later, Honeywell sent a letter to the NBA dated 20th November, 2017 requesting for an update on the status of the petition.
In another letter dated January 17, Honeywell wrote that: "We note that although a ruling dated August 5, 2016 was allegedly issued, the NBA in September 2016 forwarded the petition (containing the infractions from which Mr. Ogunba claimed he had been exonerated) to Ogunba, requesting that he should provide a response to the allegations. Therein Ogunba submitted a response to the petition which was dated September 27, 2016."
In the said response, there was no mention of any ruling by the NBA and we wonder why Mr. Ogunba issued a response to the petition almost two months after a ruling had been issued purportedly dismissing the same petition."
Honeywell Group, on its part, argued that based on the sequence of correspondence between it and NBA, it was doubtful if the NBA actually cleared Mr. Ogunba as reported in some sections of the press.
An officer with the firm, who pleaded for anonymity because he was unathourised to speak on the matter, explained that Honeywell Group has not received any official communication from the NBA conveying clearance of Mr. Ogunba.