Roger Federer can become the oldest world number one on today, as he faces Dutchman Robin Haase in the quarter-finals of the Rotterdam Open.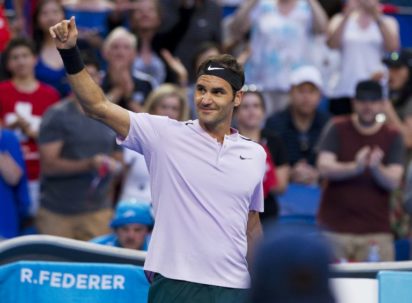 Victory over Haase will allow him to replace old rival and close friend Rafael Nadal at the top of the rankings.
And it will be a remarkable achievement for the 36 year old 20-time Grand Slam title winner who admitted he "never imagined" he'd get the opportunity.
The Swiss would surpass Andre Agassi, who held the top spot in 2003 aged 33 years and 131 days.
It would be Federer's first time back at the summit since October 2012 having first claimed the top spot in February 2004.
"This is an exciting challenge, I've struggled to try and get there. I had to win a lot of matches last year," said Federer who was as low as 17 in the world in January last year before he returned to form with the Australian Open title.
"I never imagined this after my (February 2016) knee surgery. Number one is a tough place to get to.
"The most important thing is to be healthy, I would have had great regrets if I had not come here this week. I'm very excited for tomorrow's match, I can't wait for it to come around."
Federer moved into the quarter-finals on Thursday with a hard-fought 7-6 (10/8), 7-5 victory over Germany's Philipp Kohlschreiber.
"Tonight was complicated, I had to fight and struggle," said Federer who has won three of the last five majors.
"I had a good game plan going in, but I was never able to completely pull it off.
"He came out with a clean start. I was serving well, that's a great sign. I'd rather do that and return poorly."
Thursday's win was Federer's 13th in as many meetings against Kohlschreiber.
 NAN