The Federal Government says Nigeria is on track in the elimination of Child Labour in the country.
Mr Bolaji Adebiyi, Permanent Secretary, Federal Ministry of Labour and Employment, stated this in a statement signed by Mr Samuel Olowookere, Deputy Director Press in the ministry.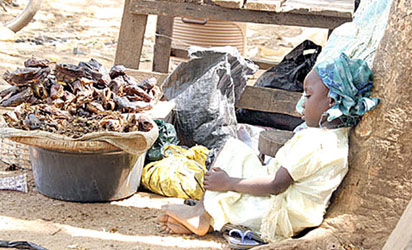 Adebiyi, who was represented by his Technical Adviser, Mr Emmanuel Igbinosun, said this while declaring open a two-day capacity building workshop on the National Reporting Template on Child Labour.
According to him, the implementation of the National Reporting Template for combating child labour remains one of the most pragmatic ways of eliminating all forms of child labour in Nigeria by 2025.
"This is in line with the Sustainable Development Goal (SDG) 8 and Target 8.7.
" So, I believe strongly that the National Reporting Template for combating child labour would harness the potentials and comparative advantages of the various stakeholders in order to make meaningful progress," he said.
Adebiyi said that the template would not only help in tackling the incidences of child labour across the country.
"But will also serve as a valuation mechanism to facilitating the identification of gaps in the implementation of multi-sectoral strategies and processes.
"It also provides basis for proactive and remedial actions aimed at reducing or eliminating child labour in Nigeria," he said.
The Permanent Secretary, however, expressed the ministry's readiness to step-up labour inspections in all the 36 states of the federation and the Federal Capital Territory.
He said that the workshop was a practical demonstration of the ministry's determination to ensure that all members of the steering committee were well sensitised.
Adebiyi said the workshop was also to create awareness for substantive targets set under Target 8.7 of SDG which sought for "immediate and effective measures to eradicate forced labour and modern slavery."
Others are to eradicate human trafficking and secure the prohibition of worst forms of child labour, including the recruitment and the use of child soldiers.
According to him, by 2025, all forms of child labour must end.
Adebiyi said that it was due to the targets that the ministry, in collaboration with development partners and other stakeholders developed and formulated a robust National Policy on Child Labour and National Action Plan on the Elimination of Child Labour In Nigeria.
In his remarks, Mr Solomon Ajibola, Director Inspectorate in the ministry, said that government would continue to champion the fight against child labour in the country.
He enjoined participants to avail themselves of the opportunity provided by the workshop to acquire the skills needed for effective and efficient reportage on child labour.
NAN