By Sola Ogundipe
It is always a joy when years of pregnancy struggles are followed by pregnancy and birth that came quite easily. This is exactly what happened to Toyin. There is no better way to spend the weekend than with a story that brings hope, inspiration, and light into our hearts. Toyin's story does just that. Read about her encounter with primary infertility and how she coped.
The last two years have been the most important of my life. These two years far exceeded my expectations of what motherhood would look like. In the last two years, I have been a mother. My daughter, Feranmi, will be two years old this month.
Although it was a struggle before I had her, Feranmi's birth has given my life a positive boost. She  weighed over 3 kg at birth and has been in perfect state of health from day 1.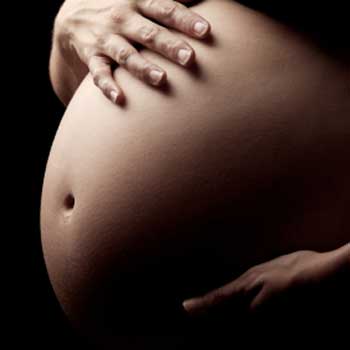 Feranmi is my world. I worship her. It's hard to believe it's been two years since I carried her in my belly. I was 39 when I gave birth and with a 26-inch waist two years down the line, I really I do not look my age. I've quite a small stature, slim, and just a little over five feet tall. As I examine my reflection in the full length mirror behind the bathroom door, I cannot help marvelling how my tiny belly could have produced such a huge baby.
For as long as I live, I will never forget the joy and excitement of feeling her kicking and moving around in my womb. The sensation of her foot pressing up against my ribs was indescribable.
It's been two years of changing nappies, breastfeeding, baby-wearing and baby nursing. Two years of joy and laughter, happiness and fulfilment. I've loved every minute of it, but I can't lie, it has also been two years of doubt and anxiety.
During these two years, I would tell myself that my fear is about the need to get pregnant again. I repeatedly tell myself that I need to get pregnant today, even right now. I think about it constantly and so intensely it hurts.
My situation isn't terribly bad, I know; but it isn't a bed of roses either. Truth is that the road to conceiving my Feranmi was not an easy one. On the contrary it was quite traumatic.
Ade, my husband and I spent the most of our five-year marriage and all our life savings trying to get to the root of our infertility issues.  I felt so deeply emotional during those months. The emotions were many, different and very strong. I constantly felt guilty, inadequate, disappointed, angry and broken.
I was anxious when I did not get pregnant after the first year, became desperate after the second year and paranoid after the third year. We did all sorts of things and went extreme lengths to get that elusive pregnancy. I ate all kinds of things, drank the most horrible-tasting concoctions, tried yoga and even acupuncture.
I changed my diet to vegetarian and we consulted every imaginable specialist who all found nothing wrong with either of us physically. Of course, we went spiritual on top of it all. We prayed consistently and went for endless vigils and prayer sessions.
Sadly, nothing changed much and I did not get pregnant as expected. After about a year and a half of all these, I got really frustrated and practically lost hope. It got to a stage I totally lost interest and stopped trying. Ade did not complain as much as I did, but I knew the strain was telling on him too. One day, I was climbing the stairs to our 3rd floor apartment, when I suddenly  felt like I was fainting. Everything began to spin before my eyes, my legs felt so heavy and unsteady I held on to the stair rails and barely managed to remain standing.
I tried to call out to Ade who was home, but my throat was constricted and I couldn't utter more than a weak groan. I just made it to the door of our flat before passing out. When I regained consciousness, I was lying on our bed. The first thing I saw was Ade's concerned face looking down at me. He had carried my unconscious body indoors into the bedroom, loosened my blouse and turned on the fan.
I looked into his eyes searching for answers. I'm sorry Toyin, but you fainted, he replied to my unasked question. Fainted? I was surprised to hear that. I had never fainted in my life. Why did I faint? Apparently, Ade didn't have all the answers. His reply was that he was taking me to the hospital right away. Although I was now fully conscious and the dizziness had gone, I was still feeling too weak to stand or walk. The neighbours stared as Ade carried me all the way down the stairs to the car and drove me to the hospital.
The doctor asked me to lie down while he carried out a brief examination. He checked my pulse, body temperature, blood pressure and asked some indistinct questions. He then pressed on my lower abdomen and asked if I felt anything. Actually I felt a dull pain down there. He checked under my eyelids and asked the last time I had my period.
I was taken aback. What has my period got to do with this? Then it suddenly struck me that I was overdue. I did a quick mental calculation and realised I was five days late. I had been so wrapped up in other matters I didn't even realise I was late. It was my turn to ask questions. Could I be pregnant? Was that why I fainted? Was this possible after all this time? I had missed my period before and didn't get pregnant, so why should it be different this time?
My heart began to thump. God, please, let it be true. I was excited at the thought of being pregnant. The doctor smiled and ordered me to go for a pregnancy test. I went for the test that same day and when the result came, it was just what I was expecting. I listened as the doctor announced that I was a little over two weeks pregnant. It was indeed the best news I had ever heard in my entire life. Ade and I were overjoyed and celebrated this piece of good news with gutso.
So, finally, I was pregnant. I could not say if it was one of all those concoctions or prayers that did the magic. Whatever, it didn't matter and I didn't care as long as it worked. As the weeks passed and my belly grew bigger and bigger, I was absolutely relieved and thought "it is over."
Feranmi was born, through normal delivery, one wet Sunday morning after barely four hours of labour. I didn't have any complication and the hospital staff commended us for the birth of such a beautiful and perfectly healthy baby. I was satiated and vindicated. At last I had arrived the destination of motherhood and my problems were over.
How naive I was! I had imagined that once I became pregnant, or perhaps once I became a mother, I wouldn't have those messy emotions anymore. I thought my infertility tale would be just a story that I would tell and occasionally remember. But I've found that the plain truth is that even after the birth of my daughter, I have discovered my infertility story isn't over. It is continuing and those messy emotions have not gone away.
Two years later, those strong and messy emotions have resurfaced. Those old feelings of desperation and frustration have since returned. I want to have another child. It's not that I'm ungrateful for the birth of Feranmi, but this is something I just need to fulfil. I dream about getting another positive pregnancy test and even have names already picked out for the yet-to-be conceived baby. But my husband does not think NOW is the time.
Currently things are a bit hard for the family because he is  jobless We've been living off my modest income since he was laid off about a year after the birth of our daughter and he has not secured anything permanent of significant since then. So I perfectly understand his point of view,
I'm not a full-fledged career woman, neither I'm I a full-time housewife but I have had to find a balance between being a mother and wife on one hand, and mother and career woman on the other. But my role as a mother remains paramount.
While trying to be objective, I'm yet to really agree that having a baby right now would not be the best thing for our family. I confess that I love my simple life with my daughter. There's such sweetness in the time I get to spend with her.
Nothing equals such time when it's just Feranmi and mummy. If I could have it any other way, we'd not wait another year or two to try. But then what guarantees do we have we'd get pregnant again like the first time. We've been trying thus far anyway and no luck.
Because of my history with infertility, I'm scared of waiting.  I know there's a very good chance we could have another long road to conception ahead of us. I remember, acutely, the pain of each negative pregnancy test of those days gone past before Feranmi's birth. And if we waited three years to start trying, what happens if we can't get pregnant for another long stretch of time? This is my worry.
I think many people assume that if you've struggled with infertility, your problems are solved once you have a baby in your arms. Even I thought this was true at one point in time. But as I interact with more women I realize that the pain doesn't magically disappear with a positive pregnancy test or a safe delivery.
Even after giving birth, it's hard to trust our bodies because they were not working normally.