By Evelyn Usman
The Japanese government on Monday in Lagos, pledged its support to partner with the Lagos State Police command with a view to improving its capacity in its fight against crime and criminality.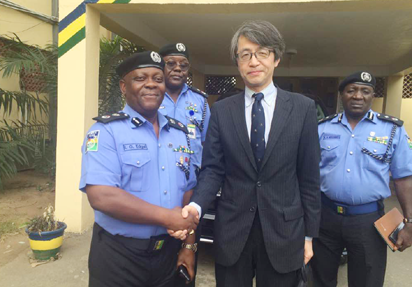 The Japanese Ambassador to Nigeria, Sadanobu Kusaoke,, who made the pledge during a courtesy visit on the command boss, Imohimi Edgal, stated that the partnership became necessary owing to what he described as a drastic reduction in crime in Lagos state.
He noted that in the last two and half years, Japanese citizens residing in Lagos had not recorded any major attack nor fallen victim to any act of criminality, attributing it to the formidable security measure on ground.
He said "We used to issue travel warnings to our citizens on safety of this country. But I can tell you that Lagos has been very safe for us and because of this, we have encouraged more Japanese to come here and do business.
"Recently, 30 Japanese companies participated in an International Exhibition in Lagos and there was no security issue. This was due to your careful and diligent policing of Lagos.
" Also, findings from our nationals indicated that cases of police extortion have been very rare and this shows integrity of the police under your watch."
To this end, he said that the Japanese government would partner with the Police, particularly the Lagos state command in the area of technology transfer as well as training of personnel with a view to enhancing their performance , noting that the police was very important in the safety of lives.
Responding , Edgal attributed the drop in crime in state to the strategy of community policing and safety partnership he initiated on assumption of office last September.
Commending the visiting ambassador for being a critical observer of security happenings in the state, Edgal, noted the state was formerly bedeviled with crimes such as youth restiveness, drug abuse, mugging , armed robbery , violence against women and children among other crimes .
He said :" With the new initiative, I attended over 12 town hall meetings across the state, where I met with the people and explained the need for their close involvement in security.
"So far, we have hosted over 15 international events and there were no hitches. This is because our policing job is being done as a process. We intend to sustain the tempo and we are also preaching partnership."
Edgal also enjoined other embassies to partner with the police, pointing out that if a state is secured , it would not only attract business and tourism to such state but would also safeguard nationals of embassies residing there.