By Rev Fr John Damian Adizie
Women are often depicted as vulnerable members of the society. People tend to take advantage of their vulnerability. There are so many cultural and religious practices that tend to reduce women to mere sexual objects.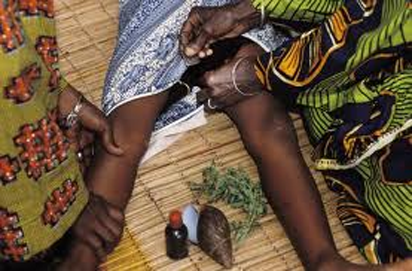 Among the various abuses against women is Female Genital Mutilation, which the World Health Organization declares as a violation of fundamental human rights. For them, "It reflects deep-rooted inequality between the sexes, and constitutes an extreme form of discrimination against women."
In 2008, the World Health Assembly passed resolution WHA61.16 on the elimination of FGM, emphasizing the need for concerted action in all sectors. February 6 was then set aside as International Day of Zero Tolerance to Female Genital Mutilation. As the war against FGM is gaining ground another deadly form of mutilation is springing up. So many women have been rendered impotent due to mutilation of the-ir reproductive organ.
Female Reproductive organ or system is made up of the internal and external sex organs that function in human reproduction. Among them are the ovaries, Fallopian tubes, uterus (womb) and of course, the vagina. The ovaries or "egg sacs" are a pair of fe-male reproductive organs located in the pelvis, one on each side of the uterus. The ovaries have two functions: they produce eggs (ova) and female hormones. These hormones control the development of female body cha-racteristics, such as the br-easts, body shape, and body hair. They also regulate the menstrual cycle and pregnancy.
The Fallopian tubes transport the egg from the ovary to the uterus (the womb). The uterus is a hollow, pear-shaped organ located in a woman's lower abdomen, between the bladder and re-ctum. The upper part is the corpus. The corpus is made up of two layers of tissue. Menstruation occurs when this tissue is not used, disintegrates, and passes out through the vagina. The cervix itself is the lower, narrow part of the uterus. It forms a canal that opens into the vagina. The vagina, of course, is the muscular canal extending from the cervix to the outside of the body.
These reproductive organs are highly sensitive. They can easily be damaged. The damage of any of these reproductive organs can easily lead to infertility. Such damages can be caused by infections, hormonal imbalance and even physical damage. Physical damage results through abortion, surgical oppression and even accident, which causes physical injury to the female reproductive organs.
So many women have been rendered impotent by medical doctors through the removal of their reproductive organs either through abortion or surgical oppression. A good number of women who narrate their ordeal claim that their womb or other reproductive organs were either damaged or removed completely during surgical oppression, without their full consent.  Among them was the case of a woman who had a surgery due to multiple fibroid. Her womb was completely removed to give a lasting solution to the problem of fibroid. But unfortunately, the doctor did not explain to her the implication of removing her womb. When she started looking for a child, she visited several spiritual centers including herbalists; only to discover that her womb was removed; but the doctor did not explain that it would affect her chances of child birth.
Unfortunately most women who have either lost their wombs or some of their reproductive organs are so ignorant of the cause of their infertility that they often blame it on spiritual attacks. Our men of God are not even helping issues. They give these wo-men false impression that it is the work of witches and wizards. Ignorance is indeed a disease! When we consider the increasing number of barren women in our society today there is need for urgent action to safeguard and protect women from malicious doctors who are using wo-men for all kinds of medical experiments.
As we commend the effort of WHO in the fight against FGM, we appeal to all tho-se concerned to take the issue of women reproductive organ seriously. Every wo-man has a right to a healt-hy reproductive organ. Nobody has the right to tam-per with any female reproductive organ without pro-per enlightenment and without her  consent.
In addition, I highly recommend that every girl or woman should undergo a  scan after every surgery to ascertain that all her reproductive organs are intact. This will help to put medical doctors on their feet and our women will no longer die out of ignorance. I wish the WHO, our womenfolk a happy Internation-al Day of Zero Tolerance to Female Genital Mutilation!