By Dayo Johnson, Akure.
A  father of five, Akin Akinyele, has confessed that he took to vandalising Nigerian National Petroleum Corporation, NNPC, pipelines in order to feed and send his children to school.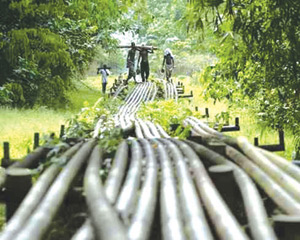 The suspect, 45, also accused of leading an illegal association, allegedly specialises in breaking the Right of Way of the NNPC and the SPDC to siphon crude oil and refine it in the creeks for sale.
Akin was paraded alongside three suspects, Alao Yusuf, 40, from Oyo State, Aremu Saidi, 35, from Osun State and Hassan Jimoh, 37, from Osun State.
200,000 litres of suspected adulterated diesel was destroyed and 2,710 litres of same product seized from them by the anti-vandal operatives of the Nigeria Security and Civil Defence Corps, Ondo State Command.
Speaking with Sunday Vanguard, the suspect said he studied electrical/electronics' engineering at Plateau State Polytechnic.
He confessed that the product was illegally sourced, refined locally before filling them into kegs and sold to customers.
The suspect, who said he had been in the business for close to four years, said he was previously selling telephone at lkeja when "there was no business in sight."
The State Commandant of the Nigeria Security and Civil Defence Corps, Pedro Awili Ideba, said the anti-vandal operatives of the agency raided the outlets and storage facilities of oil syndicates along Lagos- Benin Expressway, close to Odigbo, and arrested the four suspects.
Ideba reiterated the efforts of the Corps to deliver on its mandate of ridding the country of Illegal dealers in petroleum products.