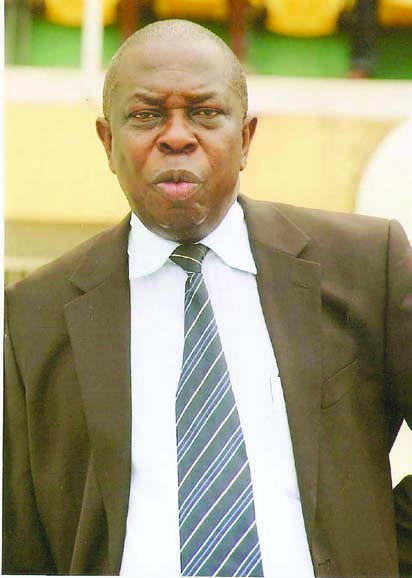 Veteran journalist turned football asministrator, Paul Bassey is chairman of  Akwa United Football Club of Uyo. The former CAF/FIFA Media Officer and General Co-ordinator watched his team beat Rangers International of Enugu 2-0 on matchday one of the 2018 Nigeria Professional Football League season in Uyo. He spoke with Jacob Ajom at his residence in Uyo. Excerpts
How has it been as chairman of Akwa United FC?
IT's been tough, very tough. Most people forget that I have never managed a football club before, so for me it is a virgin ground. The only thing people remember is that Paul Bassey has been there; he has experience in CAF and FIFA. But I never had the experience as club chairman. What I found out when I first arrived was that I needed to restructure the place and professionalise the club, get  records and the discipline structure.
Yes I have been a FIFA Media officer, CAF General Co-ordinator, I have interacted with clubs abroad, which got me working close with clubs. I have such experience. When I came I thought we will use the first year to fix the structure; it was supposed to be a gestation period and maybe in the second year we then go for a trophy. But success happened on us. Since the formation of the club 20 years ago, this is the first time the club finished fourth in the league and won the Confederation Cup. In 2015 we won the Federation Cup but we were almost relegated. Before the last season, the best the club had recorded was the 14th position. That was the burden we were carrying.
But like what I always tell people, it's easy to get to the top but tougher to remain there.. In 2018 we want to be better than what we did last time out in Africa. In 2018 we want to better our position on the league table and finish as winners or at least get a Champions League ticket. It is a massive challenge and a massive responsibility.
We want to appreciate Governor Emmanuel Udom who has been making the funds available. As a result we don't owe salaries. We are looking forward to January salaries, bonuses have been paid. Akwa United is one club where you don't have outstanding match bonuses, except for this evening's match (Akwa Utd vs Rangers). If you are in such an environment, you can challenge the players to give you the desired results. But if you are owing players, how do you ask them to give you good results.
Another thing going for us is that we have coach Abdul Maikaba as our technical adviser. He is one of the best coaches in this country. We are happy to have him and a set of fantastic staff. Everybody will key behind him, they will key behind a leader. Considering the environment, it has been tough but thank God for where we have gotten so far.
One can recall that last time out Akwa United were knocked out in the first round of CAF Confederation Cup preliminaries. What have you done to avert a repeat of that this season?
When we played that time, I was a consultant to the club. In fact it was that ouster from Africa that necessitated my coming. We have learnt our lessons.
We learnt that in Africa it is not easy to take part in a continental competition. At times you want to book for a flight you may not get 25 seats on one flight. Another problem is funding, you may not get the funds when they are needed because of bureaucracy.
In Africa you should be able to know before hand whether you are going to play on grass or artificial turf. You should be able to watch the team you are going to play against to know how good they are. If you do all these things on time you will be ready.
This time, we are even a bit lucky that our opponents are coming here first. We will have the opportunity of assessing them here before going away for the second leg. I would rather play first leg at home than going away. What if you go away and lose, say 4-0, how do you come back home to upturn that result? So we have found out those little but important things that made us not to do well in 2016 and we are working hard to avoid them.
It is expensive, very expensive. Running football in Nigeria is very expensive. The Nigerian terrain doesn't help matters. Imagine you have to travel to Maiduguri, Bauchi, you have to go to Nasarawa, you have to go to Ilorin and so on. We have midweek matches. Take Go Round, for instance, they started the league in Bauchi 
on Sunday
 and they have to run down to Rivers state to play us 
on Wednesday
. The best they can do is to arrive home 
on Tuesday
. After the 
Wednesday
 match they will now be preparing for another match 
on Sunday
. The fixtures are choked up, so ther is fatigue.
Clubs should be flying to make it easier for the players.
Where do you fly to? Let's say you are going to Bauchi, you can only fly to Abuja then you have  to hit the road. You have a match in Lafia, you fly into Abuja and you still have to hit the road. At the end of the day, you drive all the way to Nasarawa, you drive all the way to Katsina then you drive back again to take the flight. You have a match in Maiduguri you fly to Abuja then drive all the way to Maiduguri. What about the funds? It is a difficult terrain. So those are the challenges that we have.
What is your assessment of the Nigerian Professional Football League?
It can only get better by the day. I have told you about man-made challenges. You cannot say let us not go and play in Nasarawa, let us not go and play in Katsina or Maiduguri. The same thing happening to you happens to everybody. It's tough. Every year, there is some degree of improvement. Dana Air have approached us. But yet again, they can only fly us to the nearest airport to the venue of the next match, then you find your way. For instance when you are playing Sunshine they take you to Lagos, then you drive to Akure. It will help to cushion some of the financial challenges and it will help to reduce the fatigue in the players. We need more of that. But in a country as it  is now, you cannot fly from Uyo to Katsina, or to Maiduguri or fly from Uyo to Jos. In terms of organisation, fine. You saw the match we played, Akwa United versus Rangers, good organisation and quality of play impressive. I think  it is improving by the day. Very soon we will get there, especially when it comes to TV coverage.
After your years in journalism, CAF and FIFA, one thought Paul Bassey would just go home and have a quiet retirement time and now you have been given even a more tasking job of piloting Aqua United. How do you feel about this?
Well, the governor told me ''no matter what it is, you have to serve your people." This is one of the ways I can serve my community. It is tough. You are not there as a technical person, but the day they lose people will call for your head. You can hardly sleep. You have forty boys under your kitty, boys from different backgrounds; and players can be very difficult to handle because they are from different backgrounds and different intellectual levels and different level of reasoning. And the coaches too are under me. It is one tough job. I do not know how coaches do it, but I will not recommend to my enemy to come and manage a club
After your latest experience, can we at any point expect to see a Paul Bassey become the President of the Nigeria Football Federation?
No. I am not a politician. I tried some years ago to head the secretariat. Most of the work I did in CAF and FIFA was on an organisational capacity – match commissioner, general co-ordinator, instructor on club licensing, etc.
I don't think I want the NFF Presidency. It's political. I had wanted an opportunity to reorganise the secretariat. But I don't think I want to go back there.
We can't talk Nigerian football without a mention of the Super Eagles. We are going to Russia, what do you see in this team that can give you confidence that we are going to do well at the World Cup?
The problem is that we have always had good teams but they have been plagued by poor organisation. One way or the other, people compromise either at the technical level or the boardroom. There have been so many problems associated with poor organisation in the past.
Luckily, the present NFF wants to get away from the mistakes of the past. They don't want any bonus problems. They have taken the right step to discuss with the players and the coaches in advance. The players now know, this is what you stand to get at each stage of the tournament.
It will help give the boys the desired confidence and will engender concentration in them because they now know that the further they go means more money.
I like the enthusiasm among Nigerians, the media. I like it. But we are in a very difficult group. We are in a group where we can lose three matches, and we are also in a group where we can win three  matches. So that is where we are. But with some degree of off-the-field organisation, we can go far.
The boys are young and a very hungry. They know what it is to play at the World Cup. All we need now is good organisation.
Are you worried that players from the domestic league have no chance in the World Cup bound Eagles squad?
No. The Worls Cup is about Nigeria. I don't care whether you are playing at home or anywhere in the world. As long as you are a Nigerian, whether you play in Ukraine or play in England or Germany, you can play Nigeria.
Has the Nigerian media done justice to the domestic league?
Yes. I am impressed. Now I can say that every passing day, it's getting better. The TV, radio, online publications etc dedicated space and airtime to the Nigeria Professional Football League. People like you leave Lagos and travel to Uyo to come and watch matches, go back and report. It's getting better.
What should we expect from Akwa United in 2018?
We will give it our best shot. Last year we got to where we are now, we got to stay there or get one better. We are very positive we will do better than what we did last season. Better than last season means winning the league or at least, finishing second. We want to win the league, defend the FA Cup and go as far as we can in Africa. Those are our targets.