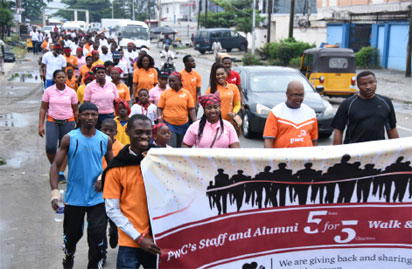 CHARITY WALK: Cross section of participants at the 5km walk organised by PwC Staff and Alumni recently in Lagos.
In the spirit of the season, PwC Staff and Alumni held a walkathon and carnival, tagged "5for5", to raise funds for 5 Charities.
PwC Country Senior Partner, Uyi Akpata and several Partners led the contingent on the 5km walk.
According to Uyi Akpata, "PwC decided to raise funds not just for one but five charities with the objective of impacting many more people in the community."
The Five Charities are: Cerebral Palsy Center, Surulere, Destiny Trust Center, Lekki, Down's Syndrome Foundation, Health Emergency Initiative and Optimal Children's Home.
The funds which were raised by PwC staff, Partners and Alumni will be shared amongst the 5 Charities.  According to Obioma Ubah, "PwC's Diversity and Corporate Responsibility Partner, the walk was a collaborative effort which allowed us to network with our alumni, promote healthy living and give back to the community".
Braving the rain, the PwC contingent completed the Walk after which they embarked on other fun activities including dance aerobics, and other entertainment.  Ubah commended the team spirit exhibited at the event by Staff, Partners and Alumni.