New York – As outrage and anger continue to trail the reported 'shithole' remarks by U.S. President Donald Trump's, the Organisation for the Advancement of Nigerians (OAN) has lent its voice to correct his wrong perception about Nigerians in the U.S.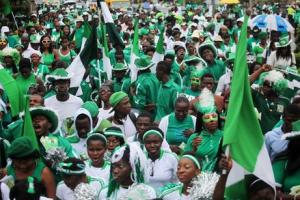 The group joined other African groups and individuals to denounce the recent disparaging statements and pronouncements attributed to Trump about Africa, El Salvador and Haiti.
Trump reportedly used 'shithole' countries to refer to Africans and other immigrants countries in the U.S. at his meeting with members of the Senate at the White House recently.
The Nigerian society group, however, stated categorically that Africans, and Nigerians in particular, were resilient, hard-working, and productive members of the U.S. society who constantly contributed at the local, state, and national levels.
It noted that Trump might have erroneously made references to Nigerians during his campaign but had since his ascendancy to the presidency, been stunned to discover that there were many successful Nigerians in all walks of life living in the U.S.
The group said: "Africans and Nigerians have excelled in numerous careers in commerce, education, technology, health, sports, entertainment, and academics.
"Recently, Dr Oluyinka Olutoye, who not only successfully removed a baby from a Texan mother's womb at 23 weeks, but also returned the baby its mother's womb after removing a tumor from it, received his education from a Nigerian university.
"In 2016, 43 of the 96 graduating Doctor of Pharmacy candidates at Howard University were Nigerians, and 16 of the 27 awards that were given went to Nigerians.
"Interestingly, one of President Trump economic advisers early in his administration, Adebayo Ogunlesi, is a Nigerian.
"Millions of Americans live in Africa, and thousands of those Americans choose to live in Nigeria.
"According to the U.S. Bureau of Statistics and Census, Nigerians are the most educated immigrants in the United States, and they have the highest education attainment rate.
"Clearly, the president's unfortunate statements about Nigerians and Nigeria are not just disgraceful and unfounded.
"They are signs that the president is horrendously misinformed about Nigeria, and they are signs that the president does not truly understand how influential, exceptional, and powerful Nigerians are".
On behalf of the citizens of Nigeria, the organisation invited Trump to visit Nigeria in order to experience first hand the warm hospitality of the people and the beautiful culture that the country has to offer.
Founded over 25 years ago, OAN represents the interests of Nigerians in the U.S. and has been at the forefront of encouraging Nigerians to make positive contributions in the country. (NAN)
Subscribe for latest Videos