…NLPGA plans to ease discharge burdens
By Prince Okafor & Ojhe Efe-Fashe
A cargo of liquefied natural gas loaded at the Nigerian Liquefied Natural Gas, NLNG, facility on Bonny Island is currently on its way to Portugal.
According to the shipping data provided by the port of Sines, NLNG carrier LNG River Niger with the capacity to transport 141,000 cubic meters of the chilled fuel is scheduled to arrive at the REN's Sines LNG terminal on January 31.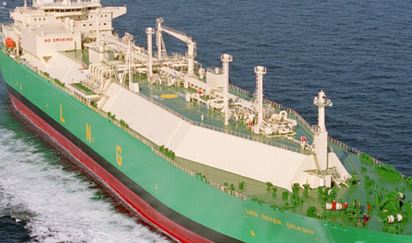 The vessel, built by the South Korean shipyard Hyundai Heavy Industries in 2006 is owned by a Nigeria LNG unit, Bonny Gas Transport (BGT), and is currently on its way in the Atlantic, off the coast of Liberia.
The export facility on Bonny Island has the capacity to produce 22 million tons of LNG per year while the Sines LNG terminal on Portugal's Atlantic coast has the nominal capacity to handle 5.26 billion cubic meters per year.
Meanwhile, the Vice-President of National Liquefied Petroleum Gas Association, NLPGA, Mr. Nuhu Yakubu, has said the association plans to improve the availabiity of LPG to Nigerians and subsequent means of reducing traffic at the Lagos Port terminal.
He also assured Nigerians to expect new LPG terminals later in the year to ease the burden of discharging the product.
"In 2018, I am sure there will be more activities and more terminals to take the pressure away from Apapa. The Apapa congestion is a challenge to the industry. More terminals are coming up. Even if it was not an issue of the logistics in Apapa alone, all the pressure in one axis of Nigeria alone is not going to help anyway so there is need for more terminals.
"We believe that in the South-East, South-South region of Nigeria, there are a few terminals that are matured and they will be opening doors to the public anytime soon."
He further stated that the Petroleum Products Marketing Company, PPMC is expanding its terminals, while the Nigerian National Petroleum Corporation, NNPC, has started reactivation of inland terminals.
He said that more bottling plants have sprung up in recent time, adding, "The ones that were idle before have been reactivated, skid plans have come up, not to even mention the road tankers which are a critical component of the value chain."
He acknowledged that as at 2007 there were less than 100 LPG tankers in Nigeria but as at the last count during the third quarter of 2017, the number of road tankers in Nigeria is in excess of a thousand.
"There's been a phenomenal growth in LPG throughout the entire value chain as with the demand as well. You can imagine from a mere 700 metric tonnes per annum grow demand number as at 2007 to 10 years down the line is now about 600,000 metric tonnes.
"There's no industry that has enjoyed such quantum of growth as NLPG, but we have to manage the fallout of this quantum growth so that we don't experience any incidence."
"For the number of LPG plans that has been rolled out in the last three to four years alone and incidences that have accord as a result, it doesn't even come close to incidences you have heard with the other flaws so to that extent."