By Bunmi Sofola
THERE are some friends you see and know instantly that their visits have to do with their latest escapades. When Jose recently barged into my office, he looked a far cry from the man who had complained a few months ago of being used and dumped by a partner who played a better hand than he had! Now, his bitterness seemed to have disappeared.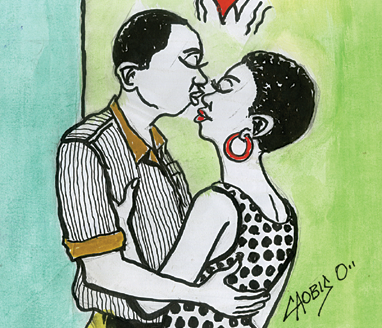 "You look like the cat that got the cream," I teased. "This cat got more than the cream my dear, and I'm still licking my lips," he said smugly. "You know that flat I was trying to let for a  client?" he asked. "Well, I finally let it to this professional prim and proper wife of a top civil servant!" "And you're excited about that?" I asked.
Jose has many irons in the fire when it comes to business and being an estate agent is one of them. This flat in question was up-market and the commission was bound to be hefty. Jose finally let it out to a client who, he said, was so snooty he had to bring her down a peg or two.
He continued: "When I told her the price the flat was going for per annum, she arched her eyebrow in disbelief. She wanted me to take off N60,000 and I said there was no way the landlord would agree to a cut as low as that. I told her I would see the landlord the next day and she should come to my office to find out if I was able to persuade him.
"She came during lunch and I offered her some refreshment which, I'm sure, she accepted because she didn't want to be on my wrong side. I chatted with her for a while, lying that I left a message with the landlord in his office and I was sure he would phone me soon. That it was a good thing she was now here to put in a word or two in her defence in case the man was stubborn. I then flirted outrageously with her and she flirted back.
Later, my secretary flashed me on my mobile as pre-arranged and I jabbered on about the client being present to a landlord that wasn't at the other end of the phone. Covering the phone's mouthpiece, I asked when she intended to bring the cheque to cover the two year rent and she said the following day.
She was so relieved and happy when I told her the landlord had finally relented that I kissed her and made a show of being excited for her. She seemed so grateful and kissed me back. Before she could change her mind, we were having sex right there in my office. I'm sure she kind of suspected I would back out of my offer if she didn't play ball!
"I'm a man of my word and I was glad I was able to convince the landlord to reduce the rent in order to get the flat off the market as soon as possible. So, on two years' rent, she was able to save N120,000 and, to me, what she did was not enough payment. My joy was that, as snooty as she looked, I was able to lower her guard!" I was a bit annoyed with Jose. He'll always' be infantile and a megalomaniac. He still has an affair going with Bomma, a 'catch' he met recently.
Was it a curse that he must sleep with every girl he runs into? "It's not a curse, don't be melodramatic. It's a challenge!" he gloated. He then went on to describe some of his most recent arousing encounters without my even asking. It is pertinent to point out the fact that Jose is a divorcee not seriously considering re-marrying. He's busy having the time of his life!
"I've always been lucky that a lot of times, I can tell by the way a woman walks whether or not she is desperate for a bonk. I mean, I can drive down a street or walk into a party filled with hundreds of people and pick out the women who are going to go home with somebody, and one of those somebodies is often me!
Only a few weeks ago, I was driving home when I saw this pretty undergraduate coming down my street and I instantly fancied her. I stopped the car, flirted with her a bit and was delighted when she came home with me 'for a drink.' I wasn't really enthusiastic about seducing her right away. I wanted to prepare the grounds for later but after a few drinks, she was game for anything.
"And there was this lovely married woman selling us some business equipment in my office. In fact, she had already sold us the machine, and she was delivering it. After the machine was installed, I asked her to come into my office to explain how the machine worked. If offices could talk! As we chatted, I told her I would love to give her a thank you lunch. She seemed very enthusiastic and I gave her a little kiss as she was about to leave.
She responded quite nicely to that, so I placed her hand on my crotch. The rest is history! She couldn't have been really keen on my impending lunch. I guess most of these women run wild these days bent on having one over the eye on their husbands. They feel pissed off by their men running wild with other women that  they don't mind a tit-for-tat bonk.
"My greatest surprise conquest was the office caterer who always does my lunch whenever I'm in the office. She's very religious and was always giving me religious tracts that I never read. As a result, I never even had any amorous thoughts about her, looked like too much bother, until she came to my office recently clad in tight trousers. I was taken aback, teasing her I didn't know she could be so trendy as she wriggled her tongued bum.
It was an invitation to kiss her good bye a little suggestively. She warned that if I continued, she wouldn't be responsible for her action. So I continued! She said she felt guilty as hell afterwards. But the few times I've seen her, all I have to do is put her hand on my crotch and she would be rearing to go!" I was getting really irritated by his arrogance at this juncture. How could a man have a steady girlfriend or wife he's in love with and still go on the rampage with lots of women?
How does he combine his sex outside with sex with his regular partner? "Sex with your partner involves more feelings," said Jose: "There's a difference between on-the-spur- of-the-moments romp and making love with someone you're in love with. Only, making love with the same woman over and over again could be hum-drum. So I fantasize about other women either about someone from the same day or the day before, or some woman that I'm going to bonk the next day … "
Quite frankly, he made me sick, and I know most of what he said wasn't all talk. The problem with men like Jose is that they go after vulnerable women who have lost a lot of their confidence because of their nasty experiences with men. What happens when he gets his comeuppance?
I reminded him of Rose, whom he'd described as a 'hot siren,' but who soon dropped him like a hot brick when a better prospect showed up at a party he invited her to.
His face clouded. "That one is nothing but a dog," he snarled. Pot calling the kettle black? It is amazing how what looks adventurous to you might suddenly look sordid when it's being done by someone else!
I reminded my randy friend that the male reproductive system, like every system in the body, ages.