Everton signed England winger Theo Walcott from Arsenal in a deal worth a reported £25 million ($34 million, 28.3 million euros) on Wednesday.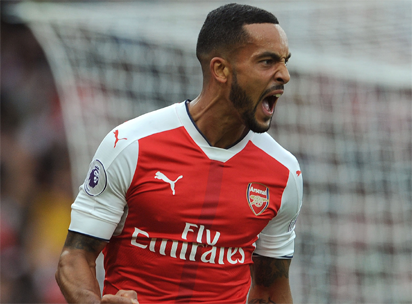 Walcott had been out of favour with Arsenal boss Arsene Wenger for much of this season and has opted to move to Goodison Park in a bid to kick-start his faltering career.
The 28-year-old made just 16 appearances for Arsenal in all competitions this season and last started a Premier League game for the Gunners in April.
"There's something about this move I've just felt good about," Walcott said.
"It felt like it was time for me to move on.
"It was sad but it's exciting at the same time and I want to reignite my career and push Everton to win things as they have done before.
"The manager is very hungry and it's just what I need. I've had a couple of chats with him and straightaway I felt that hunger and that desire that he wanted from me."
Walcott scored 108 goals in 397 matches for Arsenal in total since joining them from Southampton in 2006.
He becomes Sam Allardyce's second signing of the January transfer window following the arrival of Besiktas striker Cenk Tosun.
Speaking last Friday, Allardyce said: "Theo's not as risky (as Tosun) because he's proven. He's scored 100 goals for Arsenal from wide positions as well as many assists.
"His pace is one of his key strengths which we lack in this squad. His assists are pretty good as well as his goals.
"We are short of goals so to add power in our goalscoring ability would be very important for me."
In a statement, Arsenal said: "We all thank Theo for his contribution to the club and wish him well for the future."
Wenger admitted recently that he did not want Walcott to leave.
But he said he could not guarantee the England international playing time, which was a sensitive issue for Walcott as he tries to win a place in Gareth Southgate's squad for the World Cup in Russia later this year.
Walcott, who has 47 England caps, has not featured for his country since the friendly against Spain in November 2016.
He was infamously called up for England's 2006 World Cup squad by boss Sven Goran Eriksson before he had even made his Arsenal debut, but did not make a single appearance at the tournament in Germany.
"I've come to Everton because I want the club to push to the next level," Walcott added in what will be perceived as a swipe at his old club.
"The club has won trophies but I want them to win trophies now.
"I'm dead excited and I just want to do what I do best which is playing football and expressing myself because I'm excited again, I really am."