The Minister of Youth and Sports, Barrister Solomon Dalung has expressed deep shock following the  sudden demise of the first Chairman of the Lagos State Sports Commission, Mr Deji Tinubu.
Dalung described the death as too shocking and sudden to be true that  Tinubu who was until his death bubbling with life could just slump and die while playing 'leisure football' with his friends.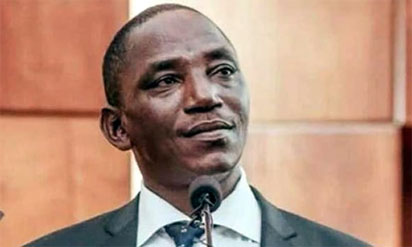 He described the late board member of the Nigeria Football Federation as a progressive Nigerian who realized and pursued the dream of a greater and better Nigeria through sports development.
"We have interacted so well over the last couple of months since the Lagos state government through him then as the Chairman of Lagos State Sports Commission and Special Adviser to his Excellency on Sports, muted the idea of renovating the National Stadium in Lagos.
"His level of intelligence and calmness in the face of challenges was excellent. Working closely with him over the last one year on the proposed Lagos National Stadium project, reinforced my belief that with the help of bright young Nigerians who are in abundant supply home and abroad, the country would be great again", Dalung said.
The Minister described the late Chief Executive Officer of SportsVision Media as a complete gentleman and a perfect role model to many established and upcoming journalists who wished to tap from his abundant wealth of experience.
"He was a complete gentleman who was humble to a fault. He was one of those few journalists who blazed the trail in their chosen careers and metamorphosed into sports administration when he became the Chairman of the Lagos State Football Association and was elected as an Executive Board member of the Nigeria Football Federation."
While expressing deep shock over the news, Dalung prayed that God will console the Lagos state Governor, Mr Akinwunmi Ambode and give the good people of Lagos, the sports fraternity and his immediate family members the fortitude to bear this painful loss.
"I don't think any word will aptly describe the way I feel right now or be able to soothe this deep wound that has been inflicted on us all. But we will continue to console ourselves with the fact that death is inevitable and it is the price all of us must pay for being human."
The  late Deji Tinubu was recently announced as the Commissioner for Commerce and Industry  in Lagos state. Tinubu was sworn in as Special Adviser on Sports and Chairman of the State's Sports Commission on October 19, 2015.
He slumped and died while playing five-a-side match with members of the Lagos State government Executive Council and permanent secretaries at a resort in Epe.