DearBunmi,
My mum runs a fairly large supermarket and I work with her for now until I get into the university. There is this guy who comes to the shop, whom I really fancy.
So when my mum goes out, I give him stuffs for free. Unfortunately, my mum recently noticed the stock was a bit down, but when I asked this guy to pay for subsequent goods, he just laughed at me.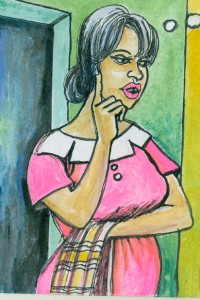 Monica, by e-mail.
Dear Monica,
You have to put a stop to this nonsense! This guy is using you to get free goods and thinks he can carry on using you because you daren't tell your mum the truth.
Next time he comes in, be firm with him that you'll tell your mother if he doesn't pay. Then do just that if he doesn't.
I know you're scared of coming clean, as your mum will probably be furious – and quite rightly too. However, if you don't sort out this situation now, it will just get a whole lot worse. It is better to face the music now and get it over with. Next time, don't buy a man's love – it's not worth it. A man who truly loves you won't make you do dishonest things.