An American billionaire said Monday he was redoubling his campaign to remove President Donald Trump from office and will plow $30 million into Democrats' efforts to regain control of Congress.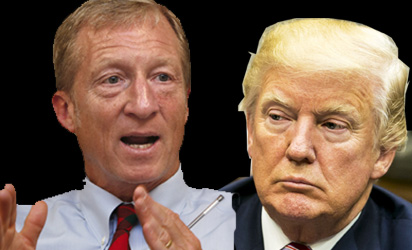 Tom Steyer, who has spent tens of millions of dollars on political campaigns and grassroots voter outreach since 2016, said he would not run for political office this year, as some observers had expected.
Instead, he is focusing on ways to mobilize young voters and flip enough Republican seats to put the House of Representatives in Democratic hands.
The activist and environmentalist, who made his fortune as a hedge fund manager, said he had another main goal.
"My job is to remove Donald Trump from office," he told reporters in Washington. "2018 is a battle for the soul of (this) country. That's why I'm all in."
Last year the 60-year-old Steyer launched Need to Impeach, a campaign that urged Americans to petition members of Congress to impeach the president.
That campaign, which now has 4.1 million signatures, began in October with a multi-million-dollar ad buy on cable television. The ad was apparently seen by Trump himself, who branded the Democratic megadonor "wacky and totally unhinged."
Steyer said he now aims to expand the impeachment campaign into a vehicle for "an unprecedented engagement effort" with young American voters in order to help bring about a wave election in November that ousts dozens of Republicans from office.
"This tide will wash away the stain of the Trump administration, and it will not recede until America lives up to its founding creed, until we guarantee equal treatment, dignity and respect to every American," Steyer said.
The new campaign, NextGen Rising, intends to reach more than three million young voters. It claims it will be the largest youth vote effort in US history.
"I am willing to do whatever it takes to help save our country," Steyer said.