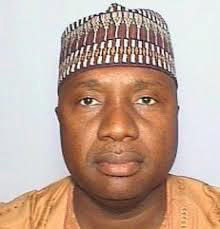 Gov. Mohammed Bindow Jibrilla
Gov. Muhammadu Bindow of Adamawa says he will rely on the current  performance of his administration if he finally resolved to seek re-election in 2019.
Bindow said this on  Saturday at the presentation of a book on his administration titled "Performance Based Politics: The Bindow Model" written by Dr Agoso Bamaiyi, the Principal Special Assistant to the governor.
Bindow said that he was satisfied with his administration's  performances and was convinced that the electorate had been enjoying   the dividends of democracy provided by his  administration.
"I don't have to campaign, I don't have to make noise or join issues with others," Bindow said.
He lauded the civil servants, the members of his executive council, the legislature and the traditional rulers for their support to his administration, adding that all the achievements recorded were  as a result of team work.
The governor also lauded the sustained  support from the Federal Government noting that with the latest release of funds as  directed by President Buhari, his administration would clear all arrears of workers' salaries.
While reiterating his commitment to sustain the tempo of work with the state "meagre resources" , Bindow said that he would soon invite President Buhari to launch the state anti-corruption unit .
Speaking at the occasion, the state Head of Service, Mr Louis Mandama, lauded the administration for its commitment to workers' welfare and urged the  workers to mobilize the electorate for Bindow's re-election.
In his remarks, the state Acting Chairman of the All Progressives Congress (APC), Alhaji Ibrahim Bilal, lauded the administration for making the party proud.
Bilal urged party members at all levels to shun internal bickering and work for the return of the party to power at all levels during the next general election.
NAN