Three soldiers were killed in central Mali on Thursday by a mine blast as they hunted for suspected jihadist fighters, the army announced in a statement.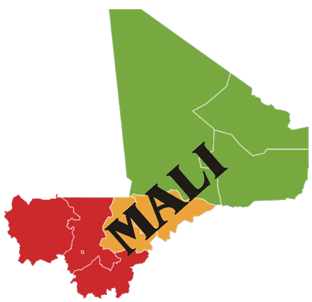 "In their pursuit of the terrorists, the FAMa (Malian armed forces) were victims of a mine explosion," the army said. "The incident took place… in the Bulkessy (Mopti) sector on the border with Burkina Faso."
"The casualty toll is three dead and three wounded," added the statement, without giving any further details.
On December 21, the army in the large northwest African nation, mostly desert, announced the killing of five armed Islamic extremists and the death of a soldier when troops fought off an attack near Niono in the centre.
In March and April 2012, jihadist groups linked to al-Qaeda seized control of the arid north of Mali, including celebrated ancient cities such as Gao and Timbuktu, centres of trans-Saharan trade and learning.
The extremists were largely driven out in a French-led military operation launched in January 2013, but large tracts of the country are still not controlled by Malian or French forces, nor a UN peacekeeping mission.
These forces regularly come under attack despite the signature in mid-2015 of a peace pact intended to isolate armed extremists.
Since then, the attacks have spread southwards in Mali and violence has also struck in neighbouring Burkina Faso and Niger.
Faced with deteriorating regional security, the G5 Sahel regional organisation, which includes the three nations together with Chad and Mauritania, revived plans for a joint anti-jihadist force, initually launched in November 2015 with French support.