By Davies Iheamnachor
PORT HARCOURT—Chiefs and Elders of Okochiri Kingdom in Okirika Local Government Area of Rivers State have demanded apology from  All Progressives Congress, APC, for an alleged denigration of His Royal Majesty, King Ateke Tom.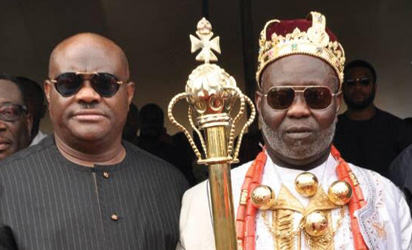 This was disclosed in a statement yesterday in Port Harcourt by the Chairman, Media and Publicity Committee of the kingdom, Elder Samuel Iyoyo.
The statement read in part: "The attention of the chiefs, elders and good people of Okochiri Kingdom have been drawn to an inscription on a flex banner which reads, 'WIKE IS MAKING CRIMINALS KINGS' with the pictures of HRM King Ateke Tom, boldly displayed on the flex during a Pro-SARS rally organized by the APC in Rivers State. Okochiri Kingdom condemns this in its entirety and in strong terms. The damaging, malicious, provocative, insultive and self-serving inscription was intended to malign and dent the reputation of His Royal Majesty, who for over a decade has sacrificed his time, resources and sustained peace in Okrika, Rivers State and Niger Delta in general."
Iyoyo noted that Ateke had never been convicted by any court of competent jurisdiction to be a criminal, contending that the royal father had never involved in any criminal act.
"It is an established fact that for anyone to be called a criminal, he must have been convicted by a court of competent jurisdiction. For the records and the avoidance of doubt, we want to state categorically that His Majesty has never been involved in any criminal activity. We query the rationale behind the criminality tag placed on His Royal Majesty, and therefore demand that this statement be retracted and a public apology rendered to the Chiefs, Elders and good people of Okochiri Kingdom and His Royal Majesty, in both local, national print and electronic media within 48 hours or be prepared to face appropriate legal action against the persons identified," Iyoyo said.