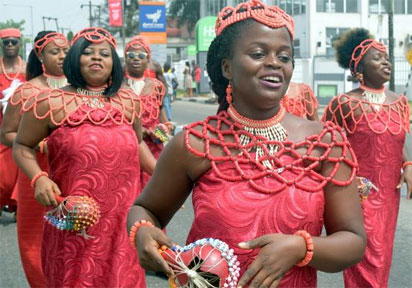 EDO STATE CULTURAL TROUPE AT THE 2017 CALABAR CULTURAL CARNIVAL
Cross River state Deputy Governor, Prof. Ivara Esu on Tuesday said that Nigeria's cultural diversity has played a major role in the unity of the country.
Esu said this in Calabar at the commencement of the 2017 Calabar Cultural Carnival at the Millennium Park in Calabar.
The deputy governor, who said that the cultural parade has become a part of the annual carnival, added that it was meant to showcase the rich culture of Nigerians.
According to him, the cultural parade symbolises "brotherhood'' which brings people of different ethnic and tribal groups together.
"You can imagine when you see an event like this that many states are participating; you then wonder why anybody should be fighting.
"Everyone here is happy today. This shows that we love ourselves and as Nigerians; we want to be one.
"Let people not divide us, let religion not divide us. Even though our cultures are different; we find happiness and we all want to continue living together as Nigerians,'' he said.
Earlier, the Chairman of the Carnival Commission, Mr Gabe Onah, said that cultural activities such as the parade was one of the ways to bequeath valuable lessons to upcoming generations.
"We handover culture to our children by exhibiting tradition and constant performance, so that they can sustain it. What we are doing here today is using our cultural experience to market tourism,'' he said.
The chairman maintained that communities are united by diversity in culture, adding that the 18 Local Government Areas in Cross River have different cultures and similar tradition which makes the state unique.
"This is a true uniting factor for a people and for a community like ours. In Cross River, our true culture is the welcoming spirit, warmth, hospitality, tourism and smiles of the people.
"The entire 18 local government areas are here. The Igbo community, Fulani, Yoruba, Hausa and others are on the road dancing and showcasing their rich culture, this is a lesson for us,'' he said.
The leader of Nasarawa Cultural Team, Mr Mohammed Zakari, described the carnival as the best in the Africa.
Other Cultural troupe leaders who spoke to newsmen lauded the Cross River Carnival Commission for sustaining the festival and for giving them the opportunity to showcase their culture.
Newsmen report that participating states included Abia, Akwa Ibom, Anambra, Bayelsa, Benue, Enugu, Imo, Kogi, Kaduna, Nasarawa, Kano, Plateau, Lagos and Oyo.
Others are Niger, Delta, Rivers, Edo, Ebonyi and Osun and the host, Cross River.
NAN