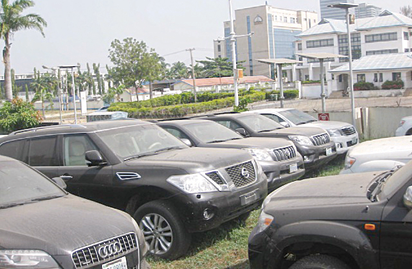 •Some of the vehicles after their recovery at ICPC premises at the weekend
By Favour Nnabugwu
LAGOS—NIGERIA spent a total of N157 billion on the importation of vehicles, aircrafts parts and vessels in the third quarter of 2017.
According to the National Bureau Statistics,  NBS, Foreign Trade Statistics for the third Quarter 2017, the figure rose by 17.7 per cent from the N133.4 billion the country spent in the same period of 2016.

The country also spent N34.55 billion on used vehicles and vehicles with diesel and semi diesel engine of cylinder capacities, while the nation spent N23.9 billion on imported motorcycles, Completely Knocked Down, CKD, by established manufacturers.
It will be recalled that the Federal Government began implementation of zero duty and Value Added Tax, VAT, payment on the importation of commercial airplanes and spare parts.
The new move by the government is part of the intervention efforts to lessen the cost burden that domestic operators bear, as well as ensure safe flight operations.
The gesture has however, been extended specifically to commercial aircraft operators and not private jet operators, who are required to pay for luxury taxes.
Chairman of Airline Operators of Nigeria, AON, Capt Noggie Meggison lauded the Federal Government for acknowledging the importance of aviation, as one of the key drivers of economy and its critical role of making Nigeria the pivot of air transportation in Africa.
Meggison noted that the unprecedented move was a welcome development and a strong testament of the commitment of President Muhammadu Buhari to making good on his promise to work assiduously to ensure that aviation does not go out of the reach of the common man by giving it the attention it deserves.
Meanwhile, NBS, stated that the country's trade balance in the third quarter 2017 amounted to N1.225 trillion, due to a continued value increase in exports and a decline in imports.
According to NBS, this figure in the third quarter more than doubled the value in the previous quarter and it is the first time that trade balance exceeds N1 trillion since the last quarter of 2014.
The report noted that exports in the third quarter was still oil dependent, as crude oil exports was N2.972 trillion in the third quarter and remained the major, accounting for 83.17 per cent.
Crude oil exports, the report added grew faster than non-crude oil exports as crude oil exports accounted for 78.18 per cent in the second quarter of 2017, while non-oil products only contributed to 3.54 per cent of total exports in the quarter.
Continuing, the report said, "Nigeria's imports trade stood at N2.349 trillion in third quarter 2017, among which N648.83 billion, while imports were machinery and transport equipment, representing 27.63 per cent of total import and N602.89 billion imports were mineral fuel, representing 25.67 per cent.
"The value for the first category stated above in total imports increased by 20.59 percent while the second one decreased by 14.78 per cent from the previous quarter. Machinery and transport equipment also replaced Mineral products as the top imported products in the reviewing quarter."