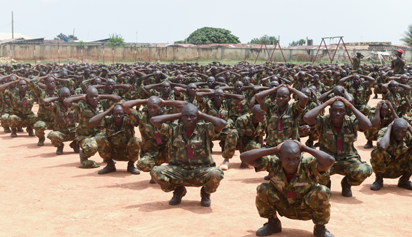 Recruits undergo training at the headquaters of the Depot of the Nigerian Army in Zaria, Kaduna State in northcentral Nigeria, on October 5, 2017.
By Joseph Erunke
ABUJA-THE Nigerian Army has asked the general public to disregard the fake announcement on the social media about recruitment exercise.

The Army, in a statement by its spokesman, Brigadier General Sani Usman, early Tuesday morning, warned unsuspected members of the public to be wary of people posting the announcement on social media to deceive them with a view to dupping them.
"The attention of the Nigerian Army is drawn to the activities of a fraudulent syndicate that has placed fake adverts to deceive unsuspecting members of the public on alleged commissioning into the Nigerian Army.
"The group specifically used Facebook and other Social Media platforms to entice interested persons and thereafter solicited for token payments into a certain bank account.
"The public is please requested to disregard such advertisements on the Social Media as the Nigerian Army is not recruiting at this moment.
"Members of the public are please enjoined to report such fraudulent groups to the nearest security agency or better still, contact the information Nigerian Army Call Centre on 193 using any of the networks, "the statement said.