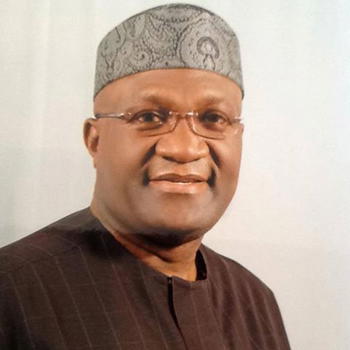 Nnia Nwodo
By Chinedu Adonu
ENUGU— INDIGENOUS People of Biafra, IPOB, has condemned the decision of Igbo leader, Chief John Nnia Nwodo to host a debate on restructuring at the practice pitch of National Stadium, Surulere, Lagos.
In a statement signed and issued to pressmen in Enugu by the Media and Publicity secretary of IPOB, Emma Powerful, the group asked, "why must Ohanaeze Ndigbo move their activities outside Igboland to Lagos? It shows they are not proud of their land or people.
"Having lost credibility all over Igboland for his serial betrayal and blood stained hands, Chief John Nnia Nwodo has ran to Lagos, the practice pitch of the National Stadium Surulere Lagos  to relaunch his tattered image as Igbo leader. If he was indeed the leader of Igbos, what is he doing convening a crucial meeting about Ndigbo in Lagos? Lagos is Yoruba land not Igbo land.
"Afenifere never organised any serious gathering outside Yoruba land, so why must Chief Nwodo run to Yoruba territory to conduct his restructuring debate?
"Is it because Igbo people are firmly behind IPOB quest for total Biafra independence, not his failed restructuring agenda? Or is it because he knows nobody will attend his hypocritical sham gathering of traitors anywhere on Igbo soil? We are urging all Biafrans, especially those of Igbo extraction to boycott this Aso Rock-sponsored gathering in Lagos."
The group advised that all issues concerning Igbo should be conducted in Igbo land, pointing out that Arewa Consultative Forum holds all their activities in Northern Nigeria and Afenifere conducts their activities in Yoruba land.
"We are aware that a lot of money have been spent to mobilize dance troops from Anambra and Enugu States   to charter busses with the promise of 350,000 Naira pledge for any group that performs for Nnia Nwodo at Surulere tomorrow. Also some Journalists both electronic media houses have   been mobilized with flight ticket to cover the event.
"The sole purpose of this gathering in Lagos is to create the impression that Nnia Nwodo is still in charge despite the obvious death of the restructuring debate in the absence of the momentum provided by IPOB. Lagos is not and can never be the home of Igbo people no matter how many millenia they may have lived there.
"Arewa Consultative Forum consign all their activities in Northern Nigeria, Afenifere always conduct their activities in Yoruba land", he disclosed.