By Dennis Agbo
ENUGU—AHEAD of debates in different state houses of assembly, a Coalition of civil society organisations in the South-East and National Union of Local Government Employees, NULGE, have called on state legislatures in Nigeria to endorse local government autonomy and other people-oriented constitutional amendments.
The groups also appealed to well meaning Nigerians to attend the various sittings of the state lawmakers to ensure they endorse the people oriented provisions as they begin consideration on the proposed amendments sent to them by the National Assembly.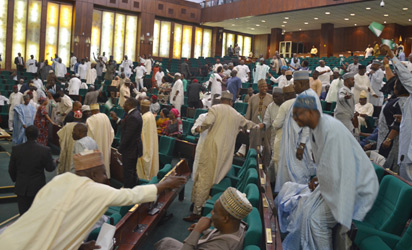 Enugu State Chairman of NULGE, Comrade Kenneth Ugwueze, stated that the major challenge of local government administration in Nigeria was encroachment by state governments, which has affected developmental strides of the councils.
"We call on Nigerians to come to our rescue. We are at the grassroots and see how people are disconnected from the government that all of them are supposed to be part of," he lamented.
He dismissed the fear of teachers who opposed the autonomy for local governments on the grounds that they would be owed salaries, stressing that the bill also made provision for deduction of teachers salary on first line charge before releasing the balance to the councils.
On his part, the Vice President of National Youth Council of Nigeria, NYCN, South East zone, Mr. Ogechukwu Nnamene said Nigerian youths would declare war against any lawmaker who   votes against "Not too young to run" bill and other critical bills in the proposed amendments.
Earlier, the group listed nine out of 21 items slated for amendment in which they have strong interest in , as such amendments would effectively impact on governance.
Their areas of interest include, local government autonomy, not too young to run, state assembly autonomy and legislative immunity for lawmakers.