By Sola Ogundipe & Chioma Obinna
The 2014 outbreak of Ebola Virus Disease, EVD, is unforgettable in the minds of every Nigerian.  Although the initial response to the outbreak suggested the country was not prepared, it nevertheless got its act together and within 93 days, successfully contained the deadly disorder. However that was not before a total of 20 infections nine deaths were recorded.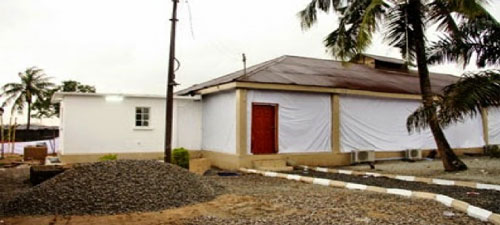 It was a period personal hygiene became one of the most important aspects of life. Awareness was at its highest and most Nigerians shunned the traditional handshake out of fear of contracting Ebola.
In public and private, the hand sanitizer became the symbol of safety and protection from infection. Corporate organisations raised the level of environmental sanitation. At every point,handwash basins with soap and/orsanitiserswere strategically positioned. Today, all that preparedness has practically disappeared.
If another disease epidemic outbreak such as Ebola was to occur today, is Nigeria prepared?  Findings byGood Health Weekly show that three years after the Ebola saga, Nigeria is still not as ready as it should be. Following series of recent epidemic disease outbreaks such as Lassa fever, Monkey Pox, Cerebro Spinal Meningitis, among others, there is general public perception that the level of emergency response to diseases outbreaks could be better.
The Lassa fever andMonkeypox outbreaks in parts of the country were clear evidences that Nigerians continue to be exposed to the dangers of preventable and treatable diseases. Lassa fever, Cerebrospinal meningitis (CSM), and cholera are just few of the emergency epidemic outbreaks the country witnessed this year.
In a short time, the Monkeypox outbreak affected nine states, giving cause for concern. Suspected cases spread to more than 20 States.
For 24 days, the disease carried the tag of "suspected" until the Federal Government obtained laboratory evidence from the World Health Organisation, WHO, Regional Laboratory in Dakar, Senegal to confirm three of the cases in Yenagoa,  Bayelsa state.
The last Monkeypoxoutbreak was the third in Nigeria's history. There were a total of three cases previously in 1971 and 1978 according to the World Health Organisation, WHO.
Monkeypox is a rare disease caused by infection with the monkeypoxvirus, that belongs to the same family of viruses that cause smallpox. African rodent species are believed to be natural reservoir and play a role in transmission.
The virus can cause an illness with symptoms of a generalised vesicular skin rash, fever, and painful jaw swelling. In previous outbreaks, it has led to death in at least 1 in 10.
With no available protective vaccine, no specific treatment and no cure, there is the need to raise awareness about the risk factors of monkeypox and employ public education about the measures that must be taken to reduce exposure to the virus.
Transmission is in two modes – animal to human and human to animal. Prevention of contact with natural hosts of the virus – monkeys, rodents, rats, squirrels etc., helps breaks transmission from animal to human. Avoidance of contact with body fluids and personal items of infected persons prevents human-human transmission.
The poor state of national health remains worrisome and the spread, in recent times, of infectious diseases, exemplifies gaps in the nation's emergency preparedness plan.
The latest outbreak expresses the need to establish and equip public health laboratories, human vaccines laboratories and Integrated Surveillance Systems.
It also showcases the need to employ effective and sustainable approaches in curtailing disease epidemics and calls for commitment to strengthen the health system to a level of sustainability and effectiveness.
In general, epidemics of emerging and re-emerging infectious diseases are on the increase, with devastating health, social and economic consequences, especially in the developing countries like Nigeria.   Studies have also shown that epidemic prone diseases, such as cholera, meningitis, and hemorrhagic fevers, especially Lassa fever for which Nigeria reports considerable morbidity and mortality annually threaten public health security.
Every year, many Nigerians lose their lives to disease epidemics.  Recently, the Minister of Health, Professor Isaac Adewole, stated that the country has been plagued with preventable food-borne disease outbreaks, such as cholera, typhoid, Lassa fever, chemical contamination like lead and mercury as well as mycotoxin poisoning, which is Aflatoxin in nuts, cereals, dried cassava and yam. These, he said, are responsible for up to 5,160 deaths yearly and have been linked to chronic disease such as systemic failure and cancer.
Just this year, a deadly meningitis outbreak took hold of some parts of the country and several lives were lost.  Sadly, Nigerians were told that the country has no vaccine for the strain.   In that outbreak alone, about 3,000 were affectedand over 300 people lost their lives.
The case of Lassa fever is not hidden. As at March 2017, Nigeria recorded over 282 deaths and 1,966 people were affected.   The recent Monkeypox outbreak also comes to mind.
Surprisingly, where emergency epidemic preparedness plans are in place, timely detection of outbreaks is followed by a prompt and appropriate response.    One of the lessons learnt with the Ebola virus disease outbreak in Nigeria is that political and public health resources deployed rapidly must be managed effectively to contain the disease outbreak in a timely fashion.  Few years down the lane, one question begging for an answer remains can such be said of Nigeria?
According to the World Health Organisation, WHO, emergency response to disease outbreak, includes prevention, mitigation, preparedness, early response and rehabilitation.
Health watchers are worried that Nigeria is yet to fully cue into this definition.
Investigations by Good Health Weekly show that the country has failed to put in place the essential structures required for emergency response to disease outbreak.   For instance, the Primary Health Centres, PHCs, where some of these diseases would have been picked early are faced with multiple challenges.  In 2016, the Federal government promised to rehabilitate 10,000 PHCs, but this is yet to be realized.
Also, due to lack of appropriate training most Nigerian health workers are yet to be abreast with the emerging epidemic management framework that has worked in other settings for effective preparedness and response.
In the views of a Public Health Physician and Epidemiologist from the Department of Community Health & Primary Care, CMUL/LUTH, Prof Akin Osibogun, Nigeria lacks proper emergency response to disease outbreak  and not still unprepared should the Ebola Virus Disease resurface in the country.
"I will say no, Nigeria is still not prepared if Ebola Virus Disease resurfaces in the country again.  In 2014, the Federal Government promised to establish six functional laboratories but nothing of such is yet to be set up."
According to Osibogun, no fewer than 1,000 Nigerians die annually as a result of disease epidemics.
Osibogun, who is a former Chief Medical Director, Lagos University Teaching Hospital, LUTH, Lagos in a lecture entitled: "Emergency Response to Disease Outbreaks: The Way Forward in Nigeria" delivered at the 8th Annual Symposium of the Health Writers' Association of Nigeria, HEWAN, said that the deaths were due to the leadership's lack of political will and preparedness to combat disease epidemics in the country.
"Yes, the government has done well with the establishment of the National Centre for Disease Control (NCDC) but there is yet to be a law in place to back up that centre and strengthen its operations.  Also, we do not have a national plan of action yet so we can be well prepared for any form of disease outbreak," he said.
He noted that it was far cheaper to be prepared than to combat disease outbreaks.   He said that a strong health system was better and will be able to prevent disease epidemics and respond faster to save lives.
"'Political commitment is highly required to make adequate funds available to provide needed infrastructure such as laboratories for prompt diagnosis, researches, treatment centres and medical equipment. There should be constant training and retraining of medical personnel for emergency preparedness.   There must be strong collaboration between the Federal and State governments and other health agencies to how to contain outbreaks.
"'So, as a nation we need to anticipate epidemics and be well prepared via surveillance system, investigation control measures, implementation of prevention measures as well as continuous monitoring."
Subscribe for latest Videos