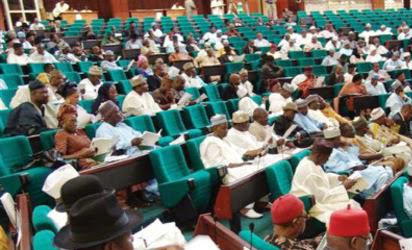 House of Representatives
The Kwara House of Assembly is to pass a bill into law prohibiting ritual killings and exhumation of corpses in the state.
The Speaker of the House, Dr Ali Ahmad, made this disclosure in Ilorin while receiving members of the 'Concerned Muslims of Kwara' led by Prof. Lanre Badmus.
Ahmad expressed disaffection on the rate at which some individuals engaged in inhuman activities such as selling of human parts, exhumation of corpses and ritual killings.
He said the lawmakers would collaborate with other concerned organisations and individuals to ensure the passage of the bill and restore sanity to the state.
The Speaker lamented that the illegal act was becoming a daily occurrence and increasingly embarrassing to responsible people of the state.
Ahmad pledged to mobilise his colleagues towards ensuring that anti-social activities are stamped out of Ilorin and Kwara as a whole.
''It is worrisome that some people can be tarnishing the good image of Ilorin by rubbishing the legacies of our founding fathers with their dastardly acts,'' he said.
Earlier, Prof. Lanre Badmus, the leader of the delegation, had decried the high rate of ritual killings and exhumation of corpses in the state.
Newsmen report that Badmus is also a lecturer at the Department of Islamic Studies, University of llorin.
Badmus said the group would soon present a bill to the House to ensure that the negative tendencies are curbed in Ilorin and other parts of the state.
The don lauded the foresight of the House for passing a resolution against nude dance in hotels in all parts of the state.