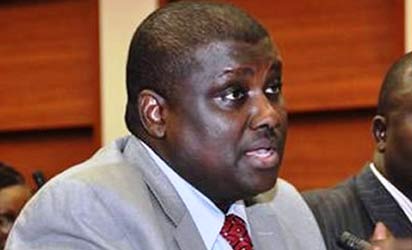 *Abdulrasheed Maina,
By Rotimi Fasan
THE more one learns of the still-unfolding saga of the pension scheme scam involving Abdulrasheed Maina, chair of the so-called Presidential Pension Task Scheme, established by the Goodluck Jonathan administration  to help put things right in the much abused pension sector – the more one learns of the intrigues and confusion concerning the reinstatement of this man into the Federal Civil Service, the more the rot in which the country has fallen becomes obvious. Let's all recall that Mr. Maina was sacked in 2013 for absconding from duty following which he was declared wanted by the Economic and Financial Crimes Commission, EFCC, for fraudulent activities in the management of pension funds. Rather than submit to the EFCC, he fled abroad.  He became a fugitive-offender and was still on the EFCC watch-list when he surreptitiously returned and was reabsorbed into the Civil Service in September 2017.
Since this disgraceful and patently corrupt process was revealed to astonished Nigerians, every one who has been directly or indirectly linked to the act has, like Pontius-Pilate, washed their hands off the matter.  From the Attorney-General of the Federation, Abubakar Malami, to the Interior Affairs Minister, Abdulrahman Dambazzau, up to the President, Muhammadu Buhari, who Mrs. Winifred Oyo-Ita, the Head of Service would in her own account unknowingly reveal had been warned by her personally not to reabsorb Maina – all of  these individuals have denied complicity in the matter.  The ensuing uproar would force President Buhari to order the sack of Maina while playing innocent. Since his sack, it has been a game of hide-and-seek between Maina and the law enforcement agents. The man who came into the country and went around with duly assigned security agents for his protection, suddenly disappeared and we are all expected to believe he could not be found.
The point Nigerians have been making is that those who offered Maina protection after he sneaked into the country earlier in the year should also bring him out from wherever they've hidden him. Like  a child's play gone awry, the Maina saga is blowing in different directions and may yet show more people culpable than are willing to admit. The latest in this man's rolling tale is the recorded video of Maina in an unknown location. In this video, Maina makes more damning claims that pours cold water on the stories being peddled by the likes of Malami and Danbazzau and even the president that they know next to nothing about how Maina was reinstated. From his account, Mr. Maina had a meeting abroad with Malami prior to his (Maina's) return to the country. It would seem like this was a deal-making meeting in which Maina negotiated his way back to the country in return for giving out important information about secret account of the pension funds. What Malami and co eventually did with the money found in these accounts is anybody's guess.
Going by his parrot-like prattles, Maina is surely ready to demonstrate his innocence. He boasted of returning nearly N300 billion, specifically N282 billion in cash to the Buhari administration in 2017 alone. Although he says he fears no man (how ironic for a man in hiding), he wants personal assurances from the president that no harm would come to him should he return home to testify before the law. Maina goes on to promise that he could in nine months produce N3 trillion for the Nigerian government. The way Maina, an officer of the rank of deputy director, talks flippantly about trillions of naira would make Aliko Dangote look like a welfare case. Yet, this is a man on salary. Feeling self-contented, he openly boasts of gifting the Federal Government trillions of naira. As a parting gift, Maina told the official delegation led to him by Malami where to find a secret account with NI trillion locked away in it. In nine months, he would make three more of such accounts available, he says apparently as a bargaining chip. This was after he had apparently mesmerised the delegation with his heroic tales of fund recovery. It was the Lagos lawyer, Jiti Ogunye, who to my knowledge first compared Maina to Hamza Al Mustapha. This observation was on point.
Maina is given to unnecessary histrionics. He does not only talk too much but also boasts in a manner one associates with people who derive much pleasure and sense of impunity from being close to power. Clearly, Maina is the lone hero in a drama of his own making. He says one thing, though, we should not discount: that those around Buhari are not honest in their dealings with him. They pretend to be saints, he says. But even Maina who doesn't claim to be a saint is surely not better than the pretenders around the president. He was invited to help right the wrong in a system. But he went on to defraud it, allegedly, to the tune of billions of naira. And now he, the hunter, has turned out to be the hunted who is now trying desperately to show himself much wronged than he had wronged Nigerians. It is only meet that Maina would identify those around the president to be persons far from being innocent or saint-like. This much Nigerians have for long known.
Perhaps, the only person still in doubt is the president, probably because he finds the truth uncomfortable and appears cut off from the reality around him. It is a matter of time, however, before Nigerians get too tired of his posture as a man of integrity. People may no longer have the patience to continue to make excuses or lower the bar for a man who three times sought the presidency to no avail only to mess up when he was finally successful. The terrible stink fast enveloping the Buhari government makes any attempt to paint the president in a different colour from those around him futile.
Buhari should and must bear responsibility for the misconduct of his self-appointed surrogates and ministerial assistants like Abubakar Malami, Abdulrahman Danbazzau and his extended family members working from inside Aso Villa. It should be obvious to him at this stage that many of these individuals have to go if his government is to regain a little credibility. We are long past the point when he could count on the generosity of spirit with which Nigerians welcomed him into office. He needs to earn the respect that comes his way. The more things appear to change around him and his government, the more they remain the same. There is a sense in which it has become clear that everyone within close distance of government now simply fishes for opportunity to defraud  Nigerians. Surely, Buhari has some explaining to do.