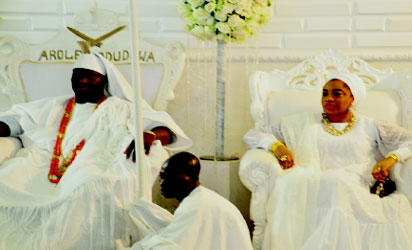 •The Ooni of Ife Oba Adeyeye Enitan Babatunde Ogunwusi,Ojaja 11 and his wife Olori Zainab Wuraola, during a reception hosted by Oonirisa of Ife to mark the 2016 Olojo Festival celebration in his palace at Ile Ife, Osun State.PHOTO BY AKEEM SALAU
By Sofowora Oladapo
In a quest to keep impacting her immediate environment and continent through her foundation, Ex wife of Ooni of Ife, Queen Zaynab met with United Arab Emirate's Minister of Economy, His Excellency Sultan Bin Saeed Al Mansoori to formalize the beginning of international relations with the UAE Economic sector to improve economic and cultural relations between the United Arab Emirates and several African nations.
The Bridge, under the patronage of Her Highness, Queen Zaynab is an African Arab organization formed to promote & improve cultural and international relations between Arab countries in the Middle East & Africa. His Excellency, Sultan Bin Saeed Al Mansoori pledged his co-operation with Her Highness and relevant ministries to aid in (social and economic) developments of international and regional activities that will enhance and improve trade exchange and dealings between the Arab world and Africa.
The beautiful lady has remained focused and has not allowed the misfortune of her short-lived marriage weigh her down, as she continues with her humanitarian services. Indeed,  her fans could not have been  happier when she participated at the recently held 72nd session of United Nations General Assembly,  where she was  endowed with the "Humanitarian of the Year" award from "Kechie's Project" at an event during the UNGA week for her outstanding contributions to women and children across the globe.
It will be recalled that she was also part of the United Nations delegates to a conference in New York, United States in April, where she shared her views on 'Safeguarding and protecting the endangered cultural heritage in time of conflict.