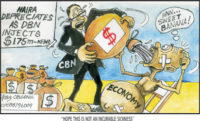 The naira, yesterday, depreciated to N360.27 in the Investor and Exporter (I&E) Foreign Exchange, forex Window.
The indicative exchange rate for the I & E forex Window, known as Nigerian Autonomous Foreign Exchange, NAFEX, depreciated to N360.27 per dollar, yesterday, from Monday's market rate which stood at N360.20 per dollar. This indicates a 7 kobo decline.
Meanwhile, the volume of dollars traded in the window, yesterday, was $86.99 from $266.41 million exchanged on Monday.
The parallel market rate for the naira was exchanged at N363 per dollar and has remained stable for over two weeks.