Mounir Gwarzo, suspended director-general of the Securities and Exchange Commission is facing at least two enquiries over his role as helmsman of the commission since 2015.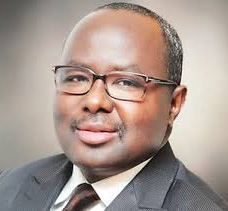 Apart from the administrative enquiry ordered by the Minister of Finance, Mrs Kemi Adeosun, Gwarzo is also being investigated by the Economic and Financial Crimes Commission.
EFCC wants to unravel the owners of the nine companies that were awarded contracts by the SEC under Gwarzo.
They include Outbound Investment Limited, Medusa Investments Limited, Northwind Environmental Services, Micro-Technologies Limited, Tida International Limited, Outlook Communications, Acromac Nigeria Limited, Balfort International Investment Limited and Interactiven Worldwide Nigeria Limited.
According to the EFCC, Gwarzo, his wife and other cronies allegedly used these companies to carry out illegal transactions in SEC.
Gwarzo, 30 months old as SEC DG, was suspended by the finance minister over allegations of financial misappropriation.
He replaced Ms. Arunma Oteh, who resigned in January 2015. Gwarzo was then the Commissioner in charge of operations.
Finance Ministry's Deputy Director of Information, Mrs Patricia Deworitshe in a statement on Wednesday said that the suspension was to allow unhindered investigation into several allegations of financial impropriety leveled against Gwarzo.
Deworitshes said that Mr Abdulsalam Naif Habu, Head of Media Division, SEC and Mrs Anastasia Braimoh, Head of Legal Department of SEC had also been suspended.
"The suspension is in line with the Public Service Rules (PSRs) 03405 and 03406.
"The Minister has set up an Administrative Panel of Inquiry (API) to investigate and determine the culpability of the Director-General.
"She has directed the suspended SEC Director-General to immediately handover to the most senior officer at the Commission, pending the conclusion of investigation by the API," she said.
Gwarzo allegedly paid himself N104 million severance package when he was appointed DG SEC from the position of a Director in the same commission.
This is in total disregard to the standing rule in the civil service which states that severance benefit can only be paid to an employee who has concluded his or her service or has completely disengaged from service.
Since Gwarzo was promoted within the commission to become a Director-general, the service rule says that he's not yet entitled to a severance package.
Gwarzo, aged 52, born in Kano, attended Bayero University also in Kano, where he read Economics and graduated in 1987.
In 1991, he obtained a post-graduate diploma in development finance from the University of Birmingham.